East Indian Music Academy Presents: Swaranjali, Fall Edition 2013.
Description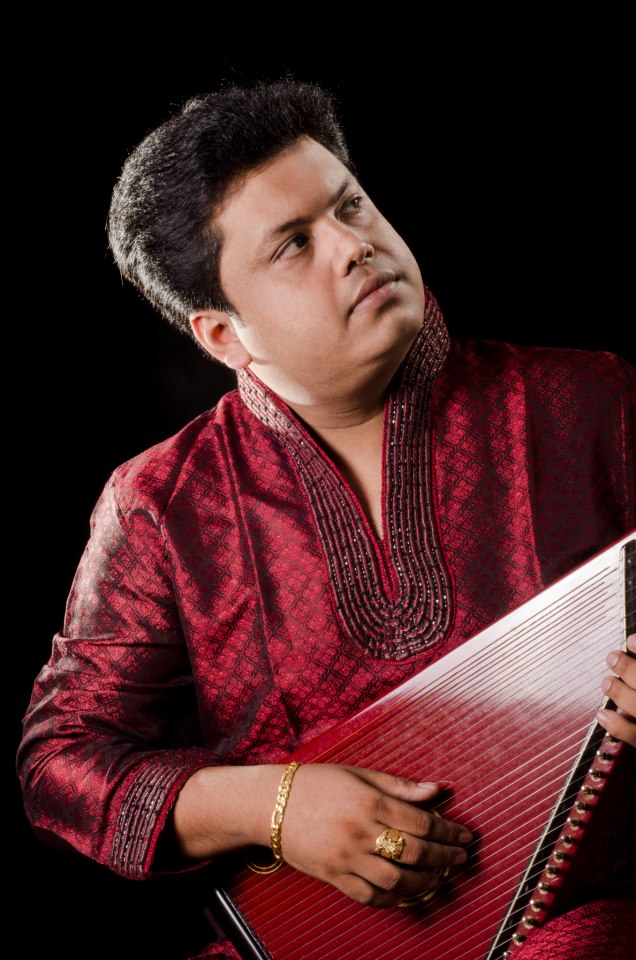 Sandip Bhattacharjee
Sandip is one of the few prodigies to have lived up to his initial promise. Born in a family with a deep rooted musical background, Sandip was initiated into music by his mother Smt. Krishna Bhattacharjee at the age of four and he continued his talim under Smt. Amita Dasgupta later.
When in his teens, Sandip became a residential scholar at the ITC Sangeet Research Academy under the able Guidance of Ustad Mashkoor Ali Khan & Ustad Mubarak Ali Khan, sons and disciples of the legendary Sarangi Maestro late Padmashree Ustad Shakoor Khan. It was essentially here that Sandip was nurtured in the true guru shishya parampara system of training of the Kirana Gharana . Now he is a senior musician scholar at the ITC Sangeet Research Academy, Tollygunge, Kolkata.
Along with his music, Sandip also holds a First class degree in Graduation from Rabindra Bharati University (Kolkata), in classical music. Other than pure classical music he is competent in singing semi classical forms like Bhajans, ghazals and Nazrulgeeti as well. Sandip also has to his credit 3 commercial releases - a CD on khayal by Sonic Octaves, Mumbai, a CD of Bengali songs by R.P Techvision, Kolkata and a CD on Bhajan by Sonic Octaves, Mumbai.
Gifted with a robust voice, Sandip is today one of the most promising young classical artists of the country, which is borne out by his regular performances across India and abroad (United States, Europe and Bangladesh). A recipient of the Title Surmani from Sur Singar Sansad Mumbai, Sandip also broadcasts regularly over the All India Radio as an " A " Grade artist.
His scintillating taiyari in the Taans and Sargams have been spontaneously appreciated by listeners and musicians alike everywhere.
Apart from being an able performer Sandip is also a teacher of music. He travels regularly to Guwahati, Tinshukia and Digboi where he has a substantial following of students in Indian classical music.Sandip has been on the faculty at AAICM in New York.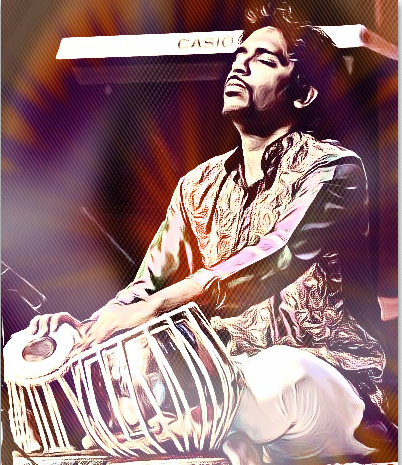 Avirodh Sharma
Avirodh Sharma, one of the leading tabla players from the West Indies and United States promoting the tradition of rhythm, incorporates rhythmic elements from around the world with Indian Classical melodic and percussive overtones; making him extraordinary as a percussionist. Trained by his father Dr. Ravideen Ramsamooj (Managing Director of the East Indian Music Academy Inc.) in Tabla and Indian Classical Music, with his blessings incorporated influences from tabla virtuosos, Ustad Zakir Hussain and Pandit Anindo Chatterjee with Avirodh's own research to evolve and display a unique aesthetic in rhythm. Avirodh is a resident Tabla teacher at the East Indian Music Academy Inc. for the last 17 years.
His performances have captivated audiences and enthusiasts of many genres of music in India, the Dominican Republic, Bahamas, Trinidad and Tobago, Guyana and the United States. He has collaborated with world class musicians like Shivamani, Patrick Mangan (Riverdance), Hidayat Khan, David Murray, Steve Gorn, the Late Hari Om Sharan, and many more. Sharma is also instrumental in creating "Globalstān™" with the vision to bridge the music of the West Indies, India, and the world in a manner that will transcend time and move the listener into the "space between the spaces" to promote peace and harmony. His debut album, "Avirodh Sharma- Globalstān: 2012 EP" will be released in 2013.
His versatility as a multi-instrumentalist is evident , but Sharma's propensity as a composer and producer has taken his work into television, film, and even on the runway at industry fashion shows. His work was featured in the Crazy Beat Show, Aaj ka Sandesh, Till I Find a Place, and notably Desiciti which was
nominated at the BANFF Television Festival and AMPIA Awards for best production in 2010
and Best TV Pilot at the 2011 New York City International Film Festival.
Some noteworthy performances at amazing venues:
Joseph Papp. Public Theater, National Arts Gallery of the Bahamas, Joe's Pub, Victory Gardens Theater, Cipriani Ballroom on Wall Street, Harlem Stage, Lincoln Theater, Broadway Marriott Marquee, Kraine Theater, and many more.
Organizer of East Indian Music Academy Presents: Swaranjali, Fall Edition 2013.
Awakening the Soul Through Music
---
Welcome to the East Indian Music Academy Inc. website. We are the first Indo-Caribbean Non-Profit 501(c)(3) Music School spreading Indian culture and spiritual awareness through music, language, and other art forms. We invite you to join us on this journey through Raag and Taal.
For more information on our classes please visit www.EIMA.us