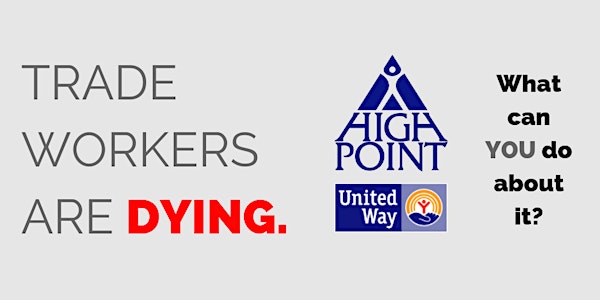 EAST BRIDGEWATER | Substance Use Prevention Training for Trades Workers
When and where
Location
East Bridgewater Town Hall 175 Central Street East Bridgewater, MA 02333
Description
If you specialize in a trade and are interested or willing to learn more about substance use prevention, join us for a FREE one-hour training on March 19th at 6PM with dinner provided. By attending this training, trade workers will learn warning signs of substance use, how to address addiction in the work place and the steps to respond in an overdose situation.
This training is being provided for businesses that specialize in a particular trade because we know that individuals who work in this industry have been disproportionately affected amidst the opioid crisis.
The statistics are clear. Trade workers are dying. From 2011-2016, there were 610 overdose deaths that occurred within the communities of Bridgewater, Brockton, East Bridgewater, Hanson, Rockland and Whitman. Of those 610 overdoses within the region, 48% of the individuals who were employed at the time of their death worked in a trade.
Who should attend: Business owners, office or administrative staff, laborers, or trade workers. Trades may be defined as working in occupations including, but not limited to: Auto Body Repairman, Boiler Maker, Car Cleaner, Carpenter, Dry Wall Hanger, Etcher, Engineer, Fabricator, Fisherman, Heavy Equipment Operator, HVAC Tech, Iron Worker, Journeyman, Laborer, Landscaper, Machinist, Mechanic, Painter, Roofer, Seal Coater, Service Tech, Sheet Metal Worker, Ship Builder, Tow Truck Driver.
If you have any questions, please contact Holly Savignano at hsavignano@hptc.org or visit our website at www.opioidoverdoseprevention.org
****Inclement weather plan: An email will be sent out 24 hours in advance.