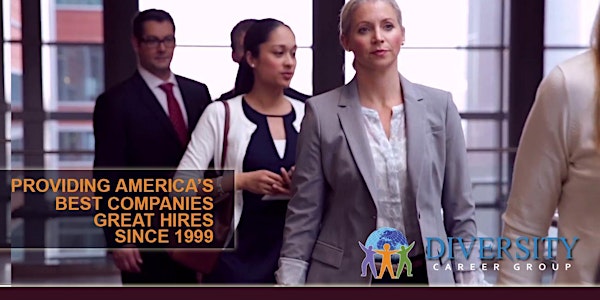 East Bay / Walnut Creek Career Fair - Virtual Job Fair * March 18, 2021
The East Bay Job Fair *Virtual Career Fair - One-on One Chat, Video & Instant Phone Interviews with Local and Nationally Known Employers
When and where
Location
East Bay / Walnut Creek Virtual Diversity Career Fair Multiple Companies Walnut Creek, CA 94596
About this event
East Bay / Walnut Creek Career Fair - Virtual Job Fair
Thursday -March 18th, 2021 *11:30 AM to 1:30 PM
Meet & Conduct One-on One Chat, Video & Instant Phone Interviews with Local and Nationally Known employers at The East Bay / Walnut Creek Job Fair *Virtual Career Fair
Positions represented at our Virtual Career Fairs: Sales, Inside Sales, Outside Sales, Retail, Administration, Financial Sales, B2B Sales, Account Managers, Government, Customer Service, Drivers, Warehouse, Project Managers, Senior Project Managers, Maintenance Supervisors, Healthcare, Industrial Sales, Mortgage, Financial Consulting, Customer Service, Retail, Security Sales, Recruiting, Insurance Sales, Retail Manager, Telecommunications, Pest Control, Logistics, Solar Sales, Software Sales, Work from Home Positions, Management Trainees and more
__________________________________________________________________________
East Bay / Walnut Creek Career Fair - Virtual Job Fair *All Positions
Thursday - March 18th, 2021 *11:30 AM to 1:30 PM
** EMPLOYERS: Please Contact us for Best Rates / DCG Career Fairs
Benefit packages vary by company, most include a combination of the following :
Corporate Benefits Packages: Salaried Positions - Base Salary + Positions - Bonuses - Commission - Car or Car Allowance - Cell/Laptop - Work from Home Positions - Full Medical/Dental/Vision/Life Insurance - Paid Holidays - Expense Account - Complete Corporate Training - College Tuition Reimbursement - Management Training - Rapid Career Advancement and More…
*Free Attendance for Candidates - Open to all candidates!
**Be prepared to interview virtually with multiple hiring managers and recruiters.
EMPLOYERS:
Hundreds of The San Francisco East Bay Area's Best and Most Qualified Candidates Attend Our Career Fairs Every Year (Since 1999). Please contact us for Special Small Business and Corporate Discount Rates to participate.
East Bay Walnut Creek Virtual Career Fair Details...
or
Request Employer Pricing Information
Account Executive, Sales Representative, Customer Service, Account Manager, B2B, retail sales, sales, financial services, customer service, Financial Services, Insurance, Sales Management, Sales Trainee, Management Trainee, At home sales, cold calling, financial advisor, insurance sales, outside sales, outside sales representative, sales executive, salesman, salesperson, saleswomen and more