Sales Have Ended
Ticket sales have ended
We can't wait to see you at the East Bay Mini Maker Faire!
Sales Have Ended
Ticket sales have ended
We can't wait to see you at the East Bay Mini Maker Faire!
Join us for the 11th annual East Bay Mini Maker Faire!
About this Event
Join us for the 11th annual East Bay Mini Maker Faire on Sunday, October 25, for an amazing celebration of the do-it-yourself spirit!
Gather your family and COVID-safe pod for a day of specially curated speaker panels, workshops, live music, and social spaces for learning and sharing. There is something for everyone in this dynamic virtual space of creative celebration! This is a participatory event in which YOU are part of the Maker story. Join us!
To see our full lineup of maker activations, please visit https://eastbay.makerfaire.com/meet-the-2020-makers/
Event FAQ:
What is included in the ticket price? Your ticket gives you access to a 3 hour staggered schedule of robust programming for people of all ages - all set within an engaging online interface full of things to discover. With your ticket, you're welcome to sit in on inspiring presentations, try your hand at something new in a workshop, play games and dance....all from the comfort and safety of your own home!
What qualifies for buying a Group Ticket? We welcome you to use the virtual East Bay Mini Maker Faire as a focused space to share creativity with your family and COVID-safe pod of friends. The Faire is a fundraiser as well as community builder, so while purchases are based on the honor system, we kindly ask that Group Tickets be purchased for group gatherings of 3-4 people.
Can I make a donation? Absolutely! We invite friends of the East Bay Mini Maker Faire who are able to make a donation beyond the price of tickets to offset scholarship tickets and help underwrite the cost of the event. Thank you for your support!
Are there discounts available? The East Bay Mini Maker Faire is for everyone! If you are unable to purchase a ticket, but would still like to participate, please email info@ebmakerfaire.com to inquire about obtaining a scholarship ticket.
What exhibitors and activities will be there? We'll announce the full lineup of specially curated Makers who will be featured at our live virtual event on our website shortly. In the meantime, our virtual Maker exhibit showcase is up and running and can be viewed at Make: Projects. Please note: this is an evergreen space that is constantly being updated, so do check back frequently to see what's new!
I'd like to exhibit! Great! Please learn more about how to do so, and submit your ideas at eastbay.makerfaire.com/callformakers/
What can I expect? To have a fantastic time, and be engaged with intriguing, participatory experiences!
Are there refunds? Tickets are non-refundable. If for some reason you can't attend, however, you are welcome to give them to friends to use!
Who puts on this event? The production team and parent community at Park Day School puts on the annual East Bay Mini Maker Faire. We think it's a fun way to contribute to the Maker community and it beautifully illustrates the Maker-mentality that we foster in our students throughout the year. It's a lot of work, but it's a labor of love and we enjoy doing it!
What is your relationship to Make Community, the producers of "the big Maker Faire?" The folks at Make.co support over 225 licensed and independently-produced Maker Faires in almost 50 countries around the world. They want to spread Maker culture, and they have a very open approach to doing that. We are inspired not only by their event, but by their philosophy. If you like Maker Faires or just making stuff in general, you should subscribe to Make: magazine - makezine.com/
Questions? Email us at info@ebmakerfaire.com
Please Note: No Refunds/Exchanges. Virtual sessions may be recorded in an effort to capture the fun, learning, and excitement of the event, so please be aware that you may be recorded at some point in the day. Those images or recordings may be used at some point in our future marketing materials. By attending, you release any claim for compensation for that use.
East Bay Mini Maker Faire is independently organized and operated under license from Make: Community.
I understand that by registering, Make: Community may provide me with updates and information about Maker Faires, other events, and products of interest to the maker community. I understand that I may opt out of these communications at any time.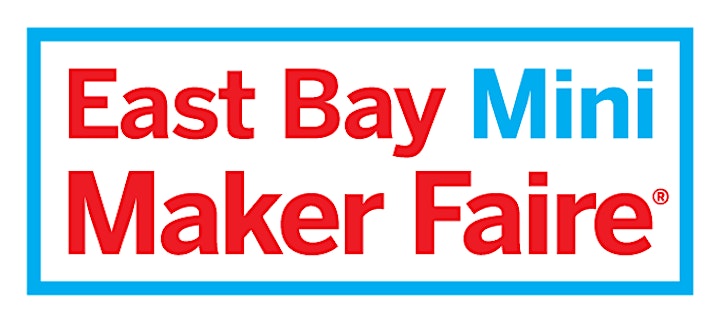 Date and Time
Location
Refund Policy