Location
Bridge Yard
210 Burma Road
Oakland, CA 94607
Join us on the evening of June 16, where the 2022 East Bay Innovation Awards finalists will be announced!
About this event
In preparation for the 10th annual East Bay Innovation Awards on August 4, East Bay EDA is hosting its inaugural East Bay Innovation Block Party event at the Bridge Yard in Oakland where the 2022 finalists will be announced on June 16! Presented by Kaiser Permanente, this one-of-a-kind celebration will include food, drinks, live entertainment, and more! In honor of our anniversary, we will highlight past awardees, alumni and look to the future of innovation across our region at this fun-filled event.
5:00 PM - Doors Open
5:15 - 6:45 PM - Food & Drink, Makers' Market, and Performances
6:45 PM - 2022 Innovation Awards Finalist Reveal
7:15 PM - Food & Drink, Makers' Market continued (until event close)
7:30 PM - Tony! Toni! Toné!
8:30 PM - Event Ends
Entertainment
Oakland and Bay Area R&B legends Tony! Toni! Toné! will be headlining this event, which will also feature performances by East Bay artists ASTU, Ballet Afsaneh, Meaghan Maples, and the talented youth of YR Media.
We will be raffling off multiple Southwest Airlines roundtrip tickets - you must be present to win!
East Bay Makers Market & Exhibitor's Expo
The East Bay Innovation Block Party will include a maker's market and exhibitor's expo featuring numerous East Bay businesses and community organizations: Annie's T Cakes, ARTogether, Association of Manufacturers Bay Area (AMBayArea), AT&T, Audacity Distributors, Baby Bean Pie, Beast Oakland, Berkeley Lab, Black Cultural Zone, Black Vines, California Green Business Network, Center for Transportation and the Environment, Common Ground Spirits, East Bay Community Energy, East Bay Municipal Utility District (EBMUD), ESO Ventures, HoneyPoint3D LLC, Hyundai XCIENT Hydrogen Truck, ICA, Kalani Ware, Mama's Papas, Nuestro Legado Distribution, Oakland Roots SC, PlanterDay, Pound Bizness, Renewal Mill, Skincare by Feleciai, Soul Box, Teas with Meaning, Wooden Table Baking Co, and many more!
COVID-19 Protocols
As of June 3, 2022, Alameda County is requiring individuals to wear masks in indoor settings – visit their website for the latest information. To help prevent the further spread of COVID-19, this event will follow all applicable public health guidelines and requirements as set forth by the Alameda County Public Health Department, the State of California, and other jurisdictions as appropriate.
Parking
Attendee parking is extremely limited and not guaranteed. Ride share is strongly encouraged. There is unattended bike & personal mobility vehicle parking on site.
Venue Information
Once a maintenance facility for the Bay Area's ubiquitous street cars, the Bridge Yard is one of Oakland's newest event spaces with an abundance of outdoor space. The award-winning restoration of this historic building features panoramic waterfront views, an iconic light-filled indoor space, and an outdoor courtyard, and elevated viewing deck.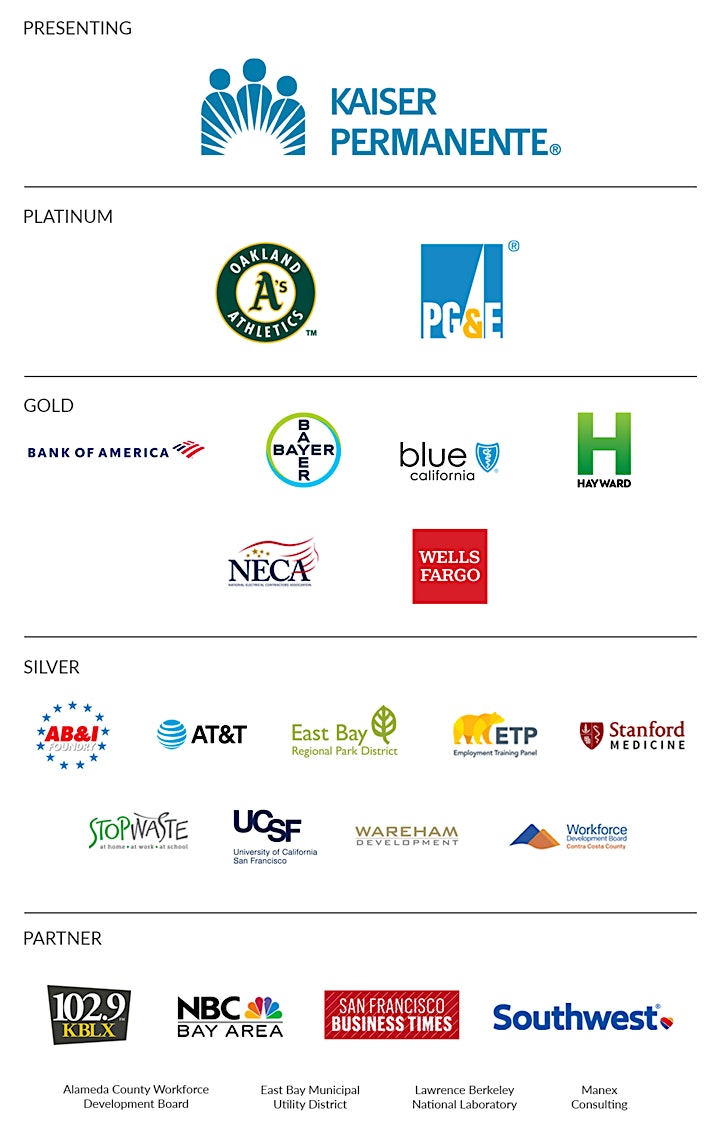 Partnering Associations: ARTogether, Bay Area Urban Manufacturing Initiative (BAUM)/SFMade, Black Cultural Zone, Black Vines, Center for Transportation and the Environment, Common Ground Spirits, ICA, 102.9 KBLX, Mindful Distributors, Nuestro Legado Distribution, Port Labs, SPUR, The CraneWorks, YR Media, Zoo Labs
Notice of Filming and Photography
Portions of this event will be photographed and recorded. By accepting or purchasing a ticket, you are consenting to potentially being captured on film or video while attending this event and having your likeness appear in future informational and promotional materials related to it.