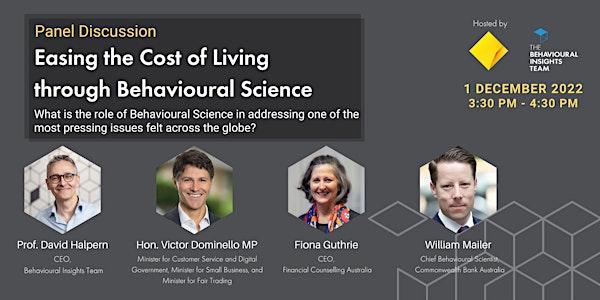 Easing the Cost of Living through Behavioural Science
A panel bringing together key thinkers in the private sector, the public sector and the community to address the increasing cost of living
When and where
Location
Commonwealth Bank Place South 11 Harbour Street Sydney, NSW 2000 Australia
About this event
This panel discussion will explore whether Behavioural Science can be used to address one of the most pressing issues faced by people across the globe: the increasing cost of living.
As the rising cost of living gives rise to new challenges and households face increasingly squeezed budgets, we invite you to discover how behavioural sciences can help. We are excited to bring you an exceptional panel of thought leaders from the private, public and third sectors, and this is a unique opportunity to join renowned Prof David Halpern in engaging and insightful discussions about the burden caused by the increased cost of living.
Whether you are in government, industry, consumer advocacy or the not-for-profit sector, this event is a must-attend for behavioural scientists, researchers, and innovators looking for an opportunity to create positive social impact through the application of behavioural insights.
The panel is free to attend and will be hosted by the Commonwealth Bank of Australia at 11 Harbour Street. Drinks and refreshments will be served at the end of the panel discussion. For people outside of Sydney, there is also an option to attend remotely. Please note that all guests will need to be registered to attend.
Panellists
Prof David Halpern
David Halpern is the Chief Executive of the Behavioural Insights Team (aka 'the Nudge Unit') and one of the world's foremost practitioners of behavioural public policy and empirical social science for government. David has led BIT since its creation in Number 10 Downing Street in 2010. BIT is now a global social-purpose consultancy with 250 staff working for governments and other organisations around the world.
Prior to that, David was the first Research Director of the UK's Institute for Government and between 2001 and 2007 was the Chief Analyst at the Prime Minister's Strategy Unit in Tony Blair's government. David was also appointed as the UK's first What Works National Advisor in July 2013. He supports the What Works Network and leads efforts to improve the use of evidence across government.
Hon. Victor Dominello MP
Victor Dominello is a senior Minister in the NSW Government and has held various portfolios over the last 11 years including Aboriginal Affairs, Innovation and Finance. In 2019 he was appointed the inaugural Minister for Customer Service and in 2021 was also appointed the inaugural Minister for Digital Government.
Victor firmly believes the use of real-time data and technology are the most powerful ways to improve quality of life and reduce suffering. Victor was a member of the original Crisis Cabinet which led the NSW response to Covid-19 and now sits on the Covid-19 and Economic Recovery Committee.
His particular focus was on delivering digital solutions such as the Service NSW QR code check-in and real-time data analysis to inform the state's decision making. Victor has been the driving force behind the roll out of the Digital Driver Licence, the establishment of the $2.2b Digital Restart Fund and the rapid expansion of the Service NSW app to include multiple voucher programs, such as Dine and Discover as well as digital trade licences.
In July, this year Victor was recognised as one of the Top 100 Innovators in the country by The Australian newspaper. In addition to digital, technology and customer experience, Victor is also obsessed with Batman.
Fiona Guthrie
Fiona Guthrie is the CEO of Financial Counselling Australia, the peak body for financial counsellors in Australia. Financial counsellors work in not-for-profit community organisations and provide advice and support to people experiencing financial stress. Cost of living is a huge issue for the clients of financial counsellors and is one of the drivers of financial stress.
Fiona joined FCA as CEO in mid-2009, is a member of the boards of Way Forward Debt Solutions, consumer advocacy group, Choice and the Queensland Competition Authority. She also represents FCA on the ACCC's Consumer Consultative Committee. She holds a B.A., L.L.B and M.B.A. and in 2017 was a recipient of an Order of Australia for significant service to the community through social welfare and financial counselling roles.
Hosted by: William Mailer
William is the Chief Behavioural Scientist for Commonwealth Bank Australia and leads the Commonwealth Bank Behavioural Economics team. Established in 2016, this unit is now one of the largest of its kind internationally; comprising experimental economists, psychologists, designers and data scientists.
The team works across the CBA Group to develop a richer understanding of human financial behaviour; and to drive evidence based financial services innovations that work better for the human decision maker.
Prior to joining CBA, Will established and led the PwC Behavioural Economics team. He has twenty years of experience consulting to large private, public and not for profit organisations. He is a regular speaker and trainer, and his team's work has been showcased in both popular media and academic outlets. Will is the founder and chair of the Sydney Behavioural Science Network, with over 3,000 members internationally.