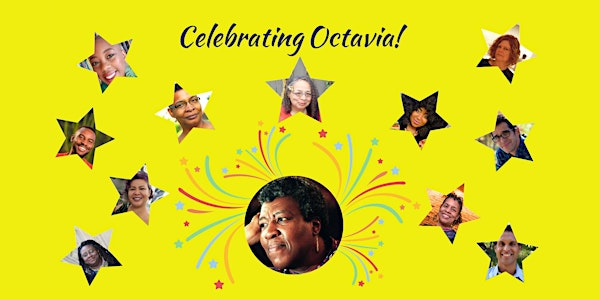 Earthseed Reading - Celebrating Octavia E. Butler
On June 22 we're kicking off a series of #CelebratingOctavia virtual events. Starting with an Earthseed Celebration.
About this event
Join the Carl Brandon Society, host Nisi Shawl, and a party room full of authors, editors, and academics as they come together to honor our deeply beloved and missed foremother with a reading of The Book of the Living, the sacred text of the religion found in Butler's groundbreaking (and prescient) Parable series.
This virtual event is free. If you purchase a ticket you'll get a reminder via email before we begin.
Our Readers
Jennifer Marie Brissett (Elysium, Destroyer of Light)
Andrea Hairston (Redwood and Wildfire, Master of Poisons)
Talitha McEachin
Tochi Onyebuchi (Riot Baby, (S)kinfolk)
Ayana Jamieson (Octavia E. Butler Legacy Network)
Gerry Canavan (The Cambridge History of Science Fiction)
Sheree Renée Thomas (Nine Bar Blues, Dark Matter)
Michi Trota (SFWA Editor-in-chief, Senior Editor Prism Magazine)
Njeri Damali Sojourner-Campbell (ONYX Pages Booktube Channel)
Rebecca Holden (Strange Matings)
Suyi Davies Okungbowa (Son of the Storm, David Mogo, Godhunter)
Ajit George (Van Richten's Guide to Ravenloft)
Nalo Hopkinson 2021 SFWA Grand Master (House of Whispers, The New Moons Arms)
Ben Winters (Underground Airlines, The Quiet Boy)
Shelley Streeby (Imagining the Future of Climate Change)
Kathleen Alcala (Spirits of the Ordinary)
Caren Gussoff (The Birthday Problem)
Grace Dillon (Walking the Clouds: An Anthology of Indigenous Science Fiction)
Steven Barnes (Twelve Days, Lion's Blood)