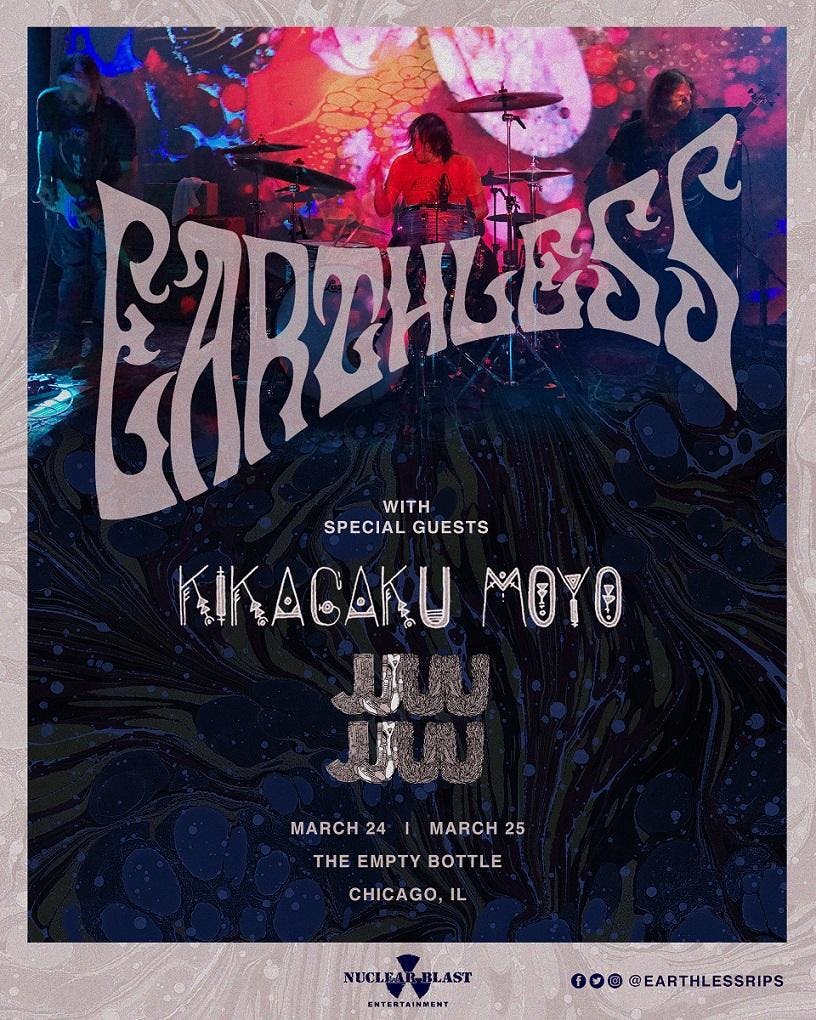 About this Event
----------
Formed in 2001, EARTHLESS prides itself on creating energetic, utterly unique and free thinking instrumental music inspired by an eclectic mix of German krautrock and Japanese heavy blues-rock. The Californian trio has dedicated itself to mastery of the mind-bending jam session, evoking the spirits of Jimi Hendrix and Black Sabbath in equal measure. Named after a song title from vintage New York garage-psych band The Druids of Stonehenge, EARTHLESS' sound has been called "A sonic kaleidoscope of lava and lightning", earning it the title of "California's loudest band". The group delivers "one of the best live shows in all of modern, heavy rock," leading to one reviewer stating that the band's "epic shredding harkens back to the days were psychedelic rock had balls the size of grapefruits and wasn't afraid to take its listeners on a ride for which they may never return."
KIKAGAKU MOYO call their sound psychedelic because it encompasses a broad spectrum of influence & elements of classical Indian music, Krautrock, traditional folk, and 70s Rock. The Tokyo five- piece's music is about freedom of the mind and body, and building a bridge between the supernatural and the present. Their newest album, House In The Tall Grass, released on their own Guruguru Brain Records, unfolds itself through many layers. Existing fans of KIKAGAKU MOYO will be comforted by the soft vocals harmonies and warm sitar, but what sets this release apart is the refinement of the band's song-writing and their delicate execution. They made their Empty Bottle debut October of 2016, and we're overjoyed to have them back on our stage!
JJUUJJUU is an astral union, an arcane ritual, and above all, a conversation. Harnessing an unspoken energy, the trio have exponentially blossomed from a sonic experiment to a forceful, telepathic dialogue of distinct-but-aligned vibrations. Releasing this dynamic on an expanding spiral of planned and impromptu live shows in the American southwest, the magnetism of the duo only continues to grow, along with its devoted, traveling coterie of entranced acolytes.