Description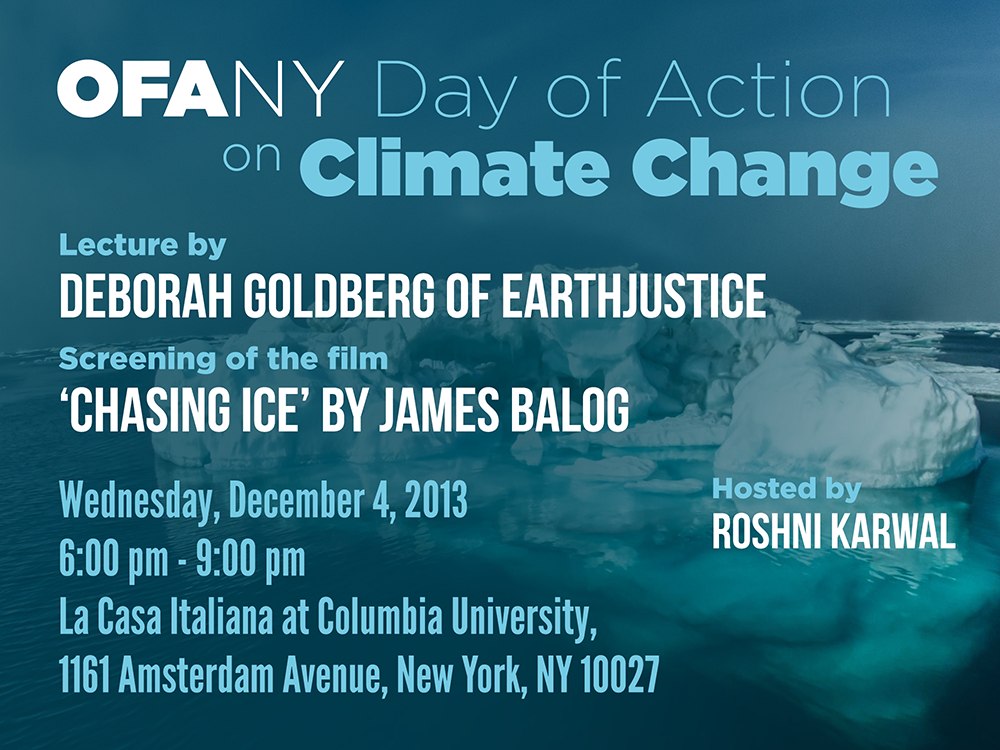 (Climate Change -- Action Event)
OFA is honoured to have Deborah Goldberg, the Managing Attorney of Earthjustice's Northeast regional office speak to our NYC Chapter. Deborah supervises and conducts legal advocacy and litigation related to global warming and environmental health. Ms. Goldberg is a graduate of Harvard Law School, after which she served as a law clerk for then-Judge Stephen G. Breyer on the U.S. Court of Appeals for the First Circuit and the late Constance Baker Motley of the U.S. District Court for the Southern District of New York. Before joining Earthjustice, she was the Democracy Program Director of the Brennan Center for Justice at NYU School of Law, where she litigated cases, published in academic journals and the popular media, and provided congressional testimony on issues of electoral and campaign finance reform. Ms. Goldberg also holds a Ph.D. in philosophy and taught ethics for three years at Columbia University before embarking on the study and practice of law.
After a brief cocktail intermission, OFA's Climate Change Champions can watch a screening of Chasing Ice, filmed by acclaimed environmental photographer James Balog in the Arctic during a a tricky assignment for National Geographic. He captures images to help tell the story of the Earth's changing climate.
Time: Wednesday, December 4, 2013 6:00 PM - 9:00 PM
Host: Roshni Karwal
Location:
Casa Italiana at Columbia University
The Italian Academy
1161 Amsterdam Avenue
New York, NY 10027
Directions: The Italian Academy is located on the Columbia University campus in New York City at 1161 Amsterdam Avenue, between 116th and 118th Streets. Entrance to the Academy is on the east side of Amsterdam Avenue, and the doorway inscription reads "Casa Italiana."
Subway Transportation: Take the 1 to 116th Street/Columbia University and then walk east one block through the Columbia University campus.
Bus Transportation: Take the M4 or M104 to 116th and Broadway, and then walk east one block through the Columbia University campus; or take the M11 to 116th Street and Amsterdam Avenue.