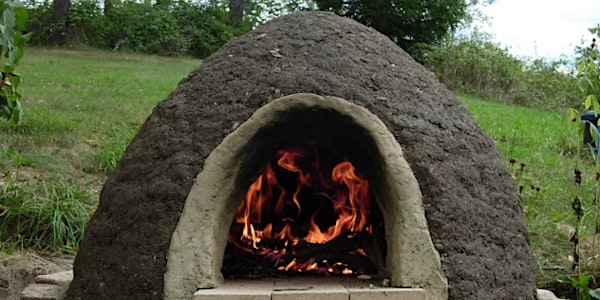 Earthen Oven Building - Workshop Series
When and where
Location
Madre Grande Monastery 2260 Lucky 6 Truck Trail Dulzura, CA 91917
Description
Description
This hands-on workshop series will expand over two 2 day-long weekends. Earthen ovens are inexpensive to build and a great community experience. On this hands-on series you will learn how to identify dirt suitable for use in building, mix cob using clay, sand and straw, and participate in the construction of an earthen oven from foundation to finish, as well as inspiring a new way of connecting to the process of cooking/baking your food with fire.
Accompanied by a take-home handout participants will leave the class with the knowledge necessary to build an oven of their own with materials they may already have in their own backyard!
Full course pricing: sliding scale $275/375
Limited capacity to 8 people, reserve your space now with a non refundable deposit of $85 per weekend.

Balance to be paid via paypal at reservations@madregrande.org before April 10th or with cash the first day of the workshop.

Topics Include:
Using mud as building material
Local climate considerations and siting of the earthen oven
Soil and material selection, sourcing and testing
Sizing
Foundations and oven base design and materials (We'll install a small foundation for the oven using rocks and recycled concrete materials)
Oven Insulation
Sand Form and Oven Domes
Natural earthen plasters and finishes
Firing and baking in an earthen oven

Instruction Type:
This is a hands-on workshop series. Attendees will have the opportunity to get dirty and use tools typical of cob building and earthen finishing.
Schedule:
Day 1 – Saturday 04/11 – 9:30AM to 5PM
• Drainage trench
• Oven Foundation
• Insulating Cooking Heart

Day 2 – Sunday 04/12 – 10AM to 5PM
• Building doorway form & arch opening
• Making the Cob Arch
• Oven dome sand form
• Apply Cob Layer on Dome
Day 3 - Saturday 05/16 – 9:30AM to 5PM
• Remove doorway template and scooped out sand.
• Straw-Clay Insulation
• Clay slip over insulation
• Base Coat of Plaster
• Exterior Sculpture shapes

Day 4 – Sunday 05/17 – 10AM to 5PM
• Finish plaster
• Final decoration
• Firing the oven

Fine Print:
Be sure to come dressed in comfortable clothes you don't mind getting dirty with mud, protection from the sun is highly recommended, and bring plenty of water.
Workshop includes 4 days of hands-on experience, instructions, and hand out, Camping opportunities available for Saturday evenings, veggie lunch from the garden, light snacks and refreshments will be provided. Participants are welcome to bring food items for potluck style food sharing dinner.
Construction sites pose risks/danger to individuals, participants are expected to be partners in ensuring their own safety. You will be asked to sign a waiver in advance of workshop participation.