Earthdance Florida 2014 - Art + Music + Energy Festival @ Maddox Ranch

Thursday, September 18, 2014 at 3:00 PM

-

Sunday, September 21, 2014 at 6:00 PM (EDT)
Event Details

LARGEST GLOBAL SYNCHRONIZED ART + MUSIC + ENERGY FESTIVAL FOR WORLD PEACE IN HISTORY ♥
Today, there are hundreds of Earthdance locations in sixty countries participating. For this one weekend of September 21, 2014, all around the globe, people join together to dance as one global community, united with a common vision for peace and humanitarian aims. Every event across the globe recites a Prayer for Peace at the same moment – morning in the Australian rainforest, afternoon in California, dusk in Florida, midnight in London, and sunrise over the Himalayas.
A large portion of the profits are donated to Earthdance International 501c3 and The Salvation Army George W. Jenkins Community of Hope.
Within our Global community of sharing peace with dance, Earthdance Florida is creating a themed landscape tale where people can come together to be co-creators in our story that heightens our creativity, brings us closer together, and transforms our lives. Everyone is a part of our story. From the performers, to our staff, vendors and participants we are all a part of our creative transformation. Like a cosmic web, together we are spreading our love in infinite directions through our natural creative forces. ♥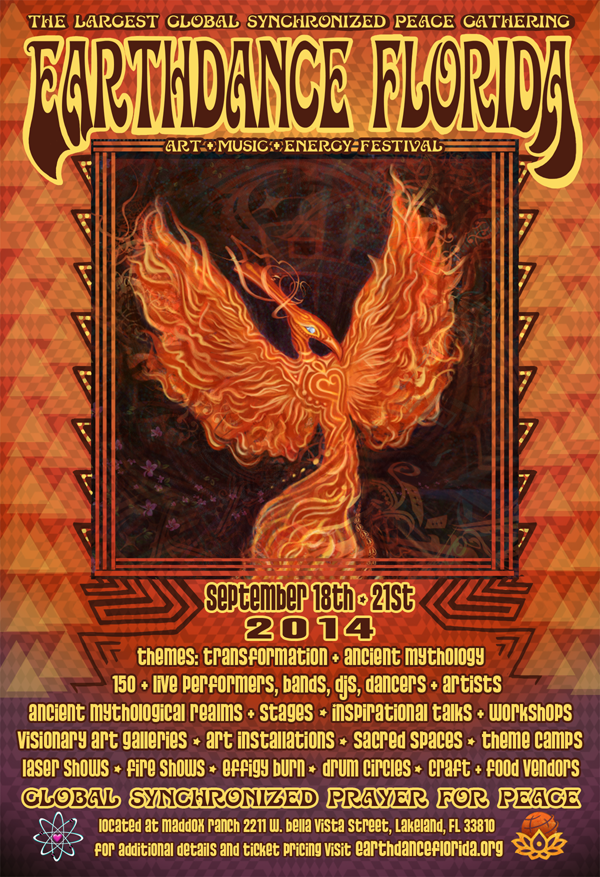 WWW.EARTHDANCEFLORIDA.ORG


EARTHDANCE FLORIDA 2014 THEME:
ANCIENT MYTHOLOGY!!!

Awaken your inner spirit and your soul's desires by getting in touch with your ancient roots. Join us on a Mythological Journey as the Phoenix guides us on a transformational exploration into the stories and beauty of timeless cultures that have brought so much meaning and mystery to our lives. Your experience will expand all your senses, heighten your creativity, and reconnect your heart to your soul. Just like the story of the Phoenix, you too will go through a creative transformation being reborn more alive than you have ever known and spreading more love and light to all you know. Together, a new creative life energy will flow through our Ancient Mythological Wonderland that encompasses five interactive realms based off of Greek, Egyptian, Asian, Celtic + Atlantis legends. We are all the story tellers and co-creators of our Ancient journey and encourage everyone to fully embrace your experience with us.


..::CO~CREATE: Theme Camping + Participation in our theme is Highly Encouraged::..


★ This is an 18+ Festival

♥ This is an ECO-FRIENDLY + LEAVE NO TRACE Festival - There will be a Compost + Recycling Station. All Campers are responsible for their own trash.

CONTACT EMAIL: earthdanceflorida@gmail.com


We are a Hybrid Community – all walks of life are welcome to join our creative melting pot of love. Our foundation is formed out of love where naturally Art, Music + Energy is created. From this foundation, and as more co-creators join our endeavor, a web is formed and naturally weaves out to infinite possibilities we create together.


Produced with Love by
CONTROLLED CHAOS PRODUCTIONS ♥
When & Where

Maddox Ranch
2505 West Bella Vista Street
Lakeland , FL 33810


Thursday, September 18, 2014 at 3:00 PM

-

Sunday, September 21, 2014 at 6:00 PM (EDT)
Add to my calendar
Organizer
Earthdance Florida LLC
Based in Sarasota, Florida, Earthdance Florida LLC have been hosting Earthdance in Florida annually since 2009. They are known for putting great detail into events to turn a typical party into an unforgettable interactive and uplifting experience. They are working with a tight network of unique individuals, whom they consider family, that contribute their talents to their annual enriching community gathering – Earthdance Florida. As Florida Ambassadors of Earthdance Global they aim to provide a safe, positive, and healthy environment for cultural exchange.
Earthdance Florida 2014 - Art + Music + Energy Festival @ Maddox Ranch