VIP Earth Origins 2021 Fri.-Sun. May 14-16, 2021 Front Row Seating E-K
About this event
EO 2021 Speakers
Here are the speakers we have joining us so far EvD Erich von Daniken, Randall Carlson, Freddy Silva, William Henry, Hugh Newman, Michael Cremo, Jim Vieira, JJ Ainsworth, Gary A. David , Rick Strassman MD, Carl Calleman, Here is a testimonial video from America Before with Graham Hancock: https://youtu.be/u0feJfCt39g . Get your tickets in advance for Earth Origins 2021 and save $50 on ticket price on front row seating. Unassigned seating.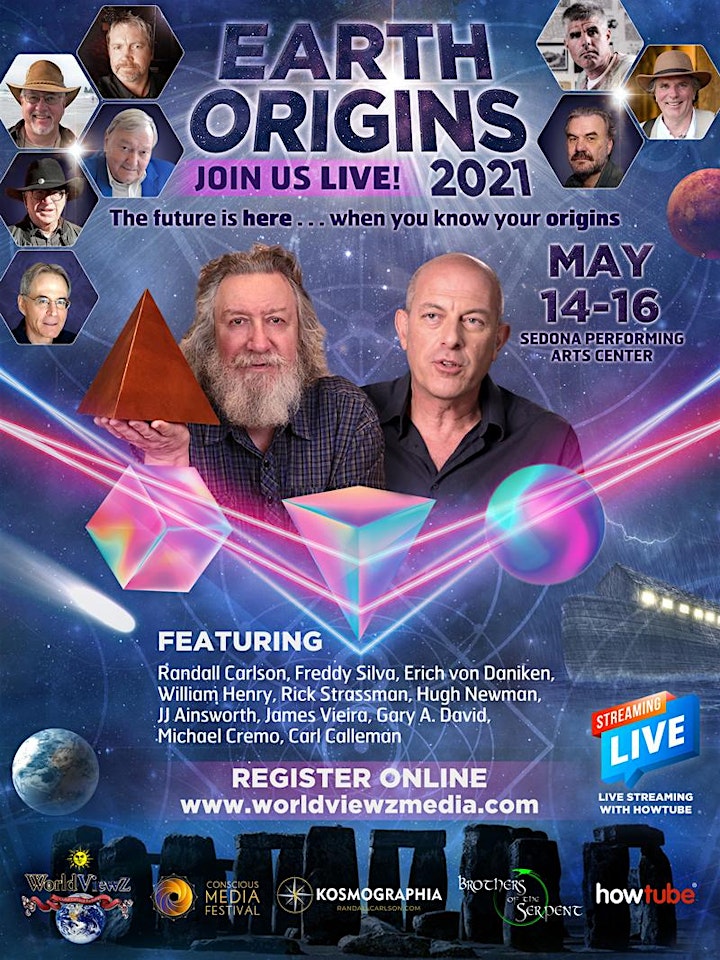 Organizer of Earth Origins 2021 Sedona May14-16th, 2021
The original impulse for World ViewZ was the love of travel; meeting new people, new cultural perspectives, taste exotic foods, sharing differences, experiencing diverse Nature, and learning a great deal about yourself in the process. To share your own neck of the woods with others is very exciting to see people enjoy themselves in Nature that you hold dear. — Robert Dakota
Robert Dakota, Founder of World ViewZ Media LLC is a social media videographer, multi-media visual artist, and mosaicists with a vision: to connect mother earth people from around the world through sacred journey's, conscious media networking channels, and multi-media visual art installations.
Robert's inspiration for World ViewZ and other spiritually inspired projects was sparked by the works of writer and mythologist, Joseph Campbell, whose writings he studied while earning a graduate degree in Theology.
He subsequently began traveling around the world studying and learning about different spiritual traditions & mythologies first hand. Even while experiencing the uniqueness of each culture & tradition, he found a common passion among us all for art, music, dance & play. Also universally  common is sacred realms, ceremony, and working with divine elements.