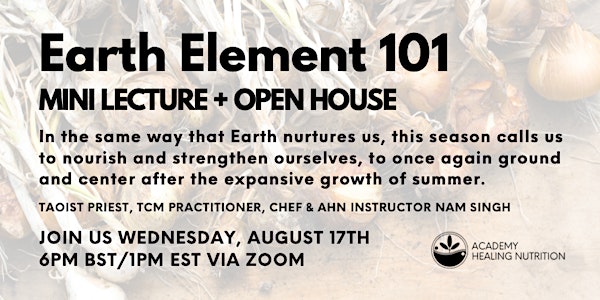 Earth Element 101 (Mini Lecture + Open House)
Join us for an essential look at the foods and practices that nurture our Stomach and Spleen, the organs that are so central to our health.
About this event
Late summer is seen by Traditional Chinese Medicine (TCM) to be a season in its own right, and the end of August is its peak.
Join us for an essential look at the foods and practices that nurture our Stomach and Spleen, the organs that are so central to our health.
TCM has long seen the connection between gut health and immunity, understanding many diseases to have roots in damage to the digestive system. When our ST-SP is unable to properly transform and assimilate the food we eat (or the worry we fixate on, or the sensory input we absorb), it creates in our bodies excessive dampness and compromises our digestive fire. This shows up as bloating, diarrhea, fatigue and an inability to focus. Our Earth becomes mud.
But when the Earth within us is balanced by wholesome foods in our diet and behaviors that ground us in the present moment, we experience vibrant energy, strong muscles, good appetite, and regular digestion. We also are able to give (to others and to ourselves) and receive in an appropriate and easy manner, without becoming smothering, controlling or self-deprecating.
Taoist priest, TCM practitioner, chef and AHN instructor Nam Singh will guide us in adapting to the rhythms and needs of late summer. In this engaging mini-lecture you'll learn:
An introduction to TCM's Five Element Theory
The medicine of the (naturally) sweet flavor
The foods now in season that nourish the Earth element
Dampness as the "thief" of Earth (and the foods that create it in excess)
AHN UK Co-founder Patricia Lopez & Operations Director Sophie Gibbin will also share key details about joining our holistic health coaching program.
Interested in learning more ahead of the event?
Visit our website: http://www.academyhealingnutrition.uk
Email hello@academyhealingnutrition.uk or call +447707974508 to speak to a course representative
About Academy Healing Nutrition
Academy of Healing Nutrition is a global online holistic health coaching school founded 40 years ago with its HQ in both NYC & London.
This accessible, interactive, and comprehensive course has taught hundreds of students the power of ancient wisdom, longevity science, and eastern philosophies such as Traditional Chinese Medicine and Ayurveda. As a holistic school AHN also inspires the connection of mind, body, and spirit as well as the importance of living in harmony with mother nature.
Our unique programme features dynamic learning experiences that transcend the limitations of online learning. Through remote cook-alongs, live lectures, and a holistic curriculum which includes bodywork and mindfulness practices––we offer ways that make the learning come alive whilst nourishing our community of learners from around the world.
AHN's mission is to teach students how to use food as medicine to find true healing in themselves and others naturally. In doing so, AHN helps students tune into their unique gifts and supports them in achieving their life's purpose