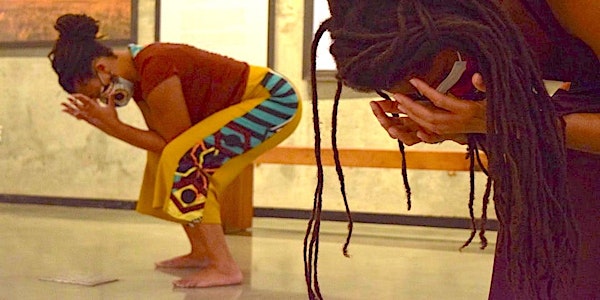 Earth Echoes Virtual Gallery Opening Reception
A dance film premiere, virtual gathering and celebration of artists featured in Earth Echoes gallery focused on art and environmentalism.
Refund Policy
Contact the organizer to request a refund.
Eventbrite's fee is nonrefundable.
About this event
Cherie Hill IrieDance presents the Earth Echoes Virtual Gallery, an exhibition of local artists whose work speaks to the power of feminism, ecology, and community. Join the virtual opening reception to connect with the artists in a shared space for celebration and showcasing some of the new pieces.
The gallery will feature a dance film by Cherie Hill IrieDance, new works by video and installation artist Imani Karpowich, performance artist Andreina Maldonado, dancer and herbalist Rose Rothfeder, and performer and writer Lashon Daley. Attendees of the opening reception will gain special early access to the virtual exhibition and a chance to chat directly with the artists. RSVP for a fun and entertaining virtual reception, and bring your favorite drink!
This event is part two of the Earth Echoes Project series, a collaboration with Cherie Hill and the David Brower Center, with funding support from the Dancers' Group's CA$H Dance grant program. The first part of this event is a panel discussion, dance film premiere, and talkback on November 14th that centers on the work of activist Wangari Maathai.
~~~~~~~~~~
Estreno de una película de danza, reunión virtual y celebración de artistas presentados en la galería "Ecos de la Tierra" Earth Echoes enfocada en el arte y el ambientalismo.
Cherie Hill IrieDance presenta la Galería virtual "Ecos de la Tierra" Earth Echoes, una exhibición de artistas locales cuyo trabajo habla del poder del feminismo, la ecología y la comunidad. Únase a la recepción de apertura virtual para conectarse con los artistas en un espacio compartido para celebrar y mostrar algunas de las nuevas piezas.
La galería contará con una película de danza de Cherie Hill IrieDance, nuevas obras artísticas de Imani Karpowich, videografía e instalación; Andreina Maldonado, arte performance; Rose Rothfeder, bailarina y herbolaria; y la artista y escritora Lashon Daley. Los asistentes a la recepción de apertura obtendrán un acceso temprano especial a la exposición virtual y la oportunidad de charlar directamente con las artistas. ¡Confirme su asistencia para una recepción virtual divertida y entretenida, y traiga su bebida favorita!
Este evento es la segunda parte de la serie Proyecto de Ecos de la Tierra, Earth Echoes Project, una colaboración con Cherie Hill y el David Brower Center, con apoyo financiero del programa de becas de danza CA$H de Dancers' Group. La primera parte de este evento es un panel de discusión, estreno de una película de baile y conversación el 14 de Noviembre que se centra en el trabajo de la activista Wangari Maathai.
ABOUT THE DAVID BROWER CENTER
The David Brower Center provides a home for the environmental movement in Berkeley as a unique community institution that houses 20+ nonprofits, hosts green events, and features a public art gallery. The Hazel Wolf Gallery, with its "Art of Activism" theme, hosts three exhibitions per year of youth, local, and established artists which inform the public of environmental issues and the bold actions we must take if ours is to remain a living planet.
~~~~~~~~~~
ACERCA DEL DAVID BROWER CENTER
El David Brower Center ofrece un hogar para el movimiento ambiental en Berkeley como una institución comunitaria única que alberga a más de 20 organizaciones sin fines de lucro, organiza eventos ecológicos y cuenta con una galería de arte pública. La Galería Hazel Wolf, con su tema "Arte del Activismo", alberga tres exposiciones por año de artistas jóvenes, locales y consagrados que informan al público sobre los problemas ambientales y las acciones audaces que debemos tomar para que nuestra tierra siga siendo un planeta vivo.