Actions and Detail Panel
Earth Day on the Elwha
Sat, April 22, 2017, 9:30 AM – 3:00 PM PDT
Description
DESCRIPTION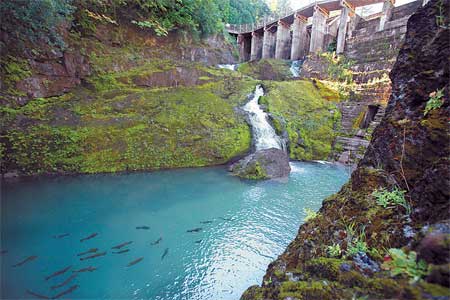 Join us for Earth Day on the Elwha!
Celebrate and learn about the Elwha River this Earth Day. More than three years have passed and this newly-restored watershed that links Olympic National Park with the salt waters of the Salish Sea is in the midst of a fascinating and unprecedented transformation.
Come walk in the footsteps of NatureBridge students as you explore the historic Elwha River Restoration Project firsthand. We'll introduce our hands-on field science investigations to help you understand biodiversity and ecological health, and discover how the dam removal continues to affect salmon.
You'll start the day at our Olympic National Park campus with a brief overview of the Elwha River Restoration Project, then pack a sack lunch (compliments of NatureBridge), and continue out to the field research site on the Elwha Delta.
9:30am-10am: Coffee and light snacks, including the world's best banana bread
10am-11am: Overview and history of the Elwha River Restoration Project
11am-12pm: Pack lunches and travel to the Elwha
12pm-3pm: Visit field research sites
Bring your own water and wear comfortable walking shoes. Snacks and lunch will be provided by NatureBridge.
Please register below. There is no cost for the event; registration is required as space is limited.
We hope you'll join us for this fun and inspirational Earth Day event!
Please contact Janelle Blakely, Pacific Northwest Development Manager, with event or registration questions: jblakely@naturebridge.org, (206) 382-6212 ext. 12.