Earth Day on the Atlanta BeltLine
Description
Earth Day
on the
Atlanta BeltLine:
Future Urban Farm Site
Saturday, April 21, 2012
9am-12 noon
Join Keep Atlanta Beautiful, Atlanta BeltLine, Inc., the Atlanta BeltLine Partnership, Park Pride, Trees Atlanta, the Atlanta Community Tool Bank, Hands On Atlanta, and neighborhood partners as we help prepare for the first urban farm on the Atlanta BeltLine during this year's Atlanta BeltLine Earth Day Clean-Up.
IMPORTANT: DOWNLOAD AND PRINT A WAIVER TO SIGN AND BRING WITH YOU TO CHECK IN. WAIVER CAN BE FOUND AT THIS LINK:
http://keepatlantabeautiful.org/pdf/BL%20Cleanup%20Liability%20waiver.pdf
The Atlanta BeltLine is working with the University of Georgia, Trees Atlanta, Southeast Horticultural Society, Atlanta Audubon Society, and neighborhood groups to transform 4 acres of former industrial property in to an urban farm along the southwest section of the Atlanta BeltLine next to the Adair Park neighborhood. Join our Earth Day partners as we remove invasive plants, litter, and building debris from the site to clear the way for the eventual planting of native plant species, brambles, berry bushes, and fruit trees.
All ages are welcome, though we require all children be accompanied by an adult.

The approximate location of the site is 1150 Allene Avenue, SW, Atlanta, GA 30310 – at the corner of Allene Avenue and Warner Street.

Thank you for supporting the Atlanta BeltLine!
UPDATED: PLEASE READ BELOW FOR IMPORTANT INFORMATION ABOUT SATURDAY'S CLEANUP:
Check in
Plan to arrive by 8:30 to check in, grab a coffee, and bagel and get assigned to a team leader who will orient you to the site. The first step in making sure we have a smooth running event with this many volunteers is to make sure you all bring with you your signed liability waiver. If you are bringing children, they must also have a liability waiver signed by a guardian. Be advised, YOU WILL NOT BE ALLOWED TO PARTICIPATE IF YOU DO NOT HAVE A SIGNED LIABILITY WAIVER. We will have a few on hand for people signing up that morning, but for expediency's sake, PLEASE PRINT AND SIGN THIS LIABILITY WAIVER, which can be downloaded here as a PDF: http://keepatlantabeautiful.org/pdf/BL%20Cleanup%20Liability%20waiver.pdf. If you have difficulty with this link, please email me at annierowland@keepatlantabeautiful.org and I will send one to you. I cannot stress enough how important this will be to getting you all checked in and off to work on time. I thank you in advance for your full cooperation. On a side note, you will not need the EventBrite ticket that you may have received when you registered, so save the paper on that one. Team leaders will need to arrive by 8:00 a.m., and you will receive a separate email with more details.
Weather
I'm sure you all are wondering about the weather for Saturday as the forecast calls for rain and thunderstorms. THIS IS A RAIN OR SHINE EVENT and there is no rain date scheduled. Having said that, if there is thunder or lightning in the area, we will delay work until potentially dangerous weather has passed. Use your best judgment in the morning before coming out, and I will also update the event website if there is any significant weather that will delay our work.
Food
Food, snacks and water will be available for volunteers courtesy of Atlanta City Councilmembers, Cleta Winslow and Joyce Sheperd, and the Atlanta Audobon Society.
Scope of work
As you check in, we will place you (and your group if you are part of a larger one) with a team leader in groups of 10 or more who will provide the rundown your specific duties for the cleanup. Be prepared for moderate to heavy work. We have needs for invasive plant removal, trash cleanup, removal of fist size and larger concrete cleanup, as well as large concrete slab removal. Some work gloves and an assortment of tools will be provided, we encourage you to bring your own gloves if you have them. Some of these tools are dangerous if used improperly. Please follow the instructions of your team leader and no horseplay with tools.
Directions
The approximate location of the site is 1150 Allene Avenue, SW, Atlanta, GA 30310 – at the corner of Allene Avenue and Warner Street.
By MARTA: The WestEnd MARTA station is located 1 mile from the cleanup site. After exiting the station, walk south on Lee St., cross over W. Whitehall St./Lee St. and continue South on Allene Ave. until you reach the registration site. A pedestrian map can be found here: http://maps.google.com/maps/ms?msa=0&msid=211248735398326586657.0004bd401cf385b46b7fb
By car from I-75/85: Exit University Dr. and continue westbound on University Dr. (from 75/85 S. turn right off exit ramp. Northbound, turn left off exit ramp). Turn right on Metropolitan Pkwy. Left on Catherine St. Left on Allene Ave. The cleanup site is approximately 1/2 mile down Allene Ave. on the left. View driving map: http://maps.google.com/maps/ms?msa=0&msid=211248735398326586657.0004bd401cf385b46b7fb Street parking is available on east side of Allene, south side of Catherine, and West side of Lexington.
Checklist for Saturday Morning

ÿ SIGNED LIABILITY WAIVER(S)
ÿ Dress in layers (long pants and long sleeve shirt)
ÿ Work gloves if you have them
ÿ Wear sturdy, close toed shoes. NO SANDALS
ÿ Reusable water bottle to take in the field
ÿ Bug spray
ÿ Sunscreen
ÿ Snacks if you have any dietary restrictions or allergies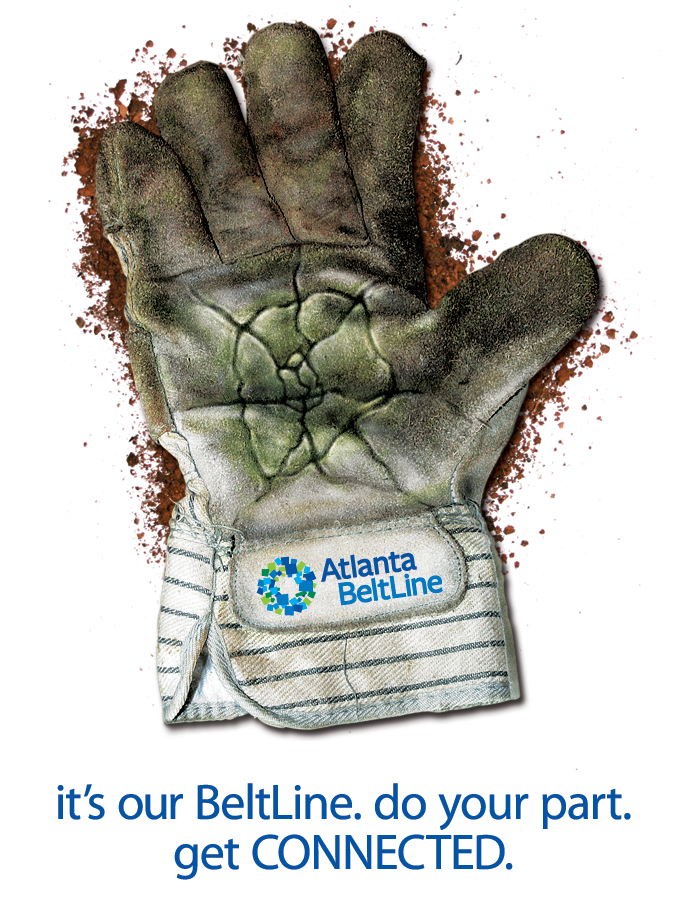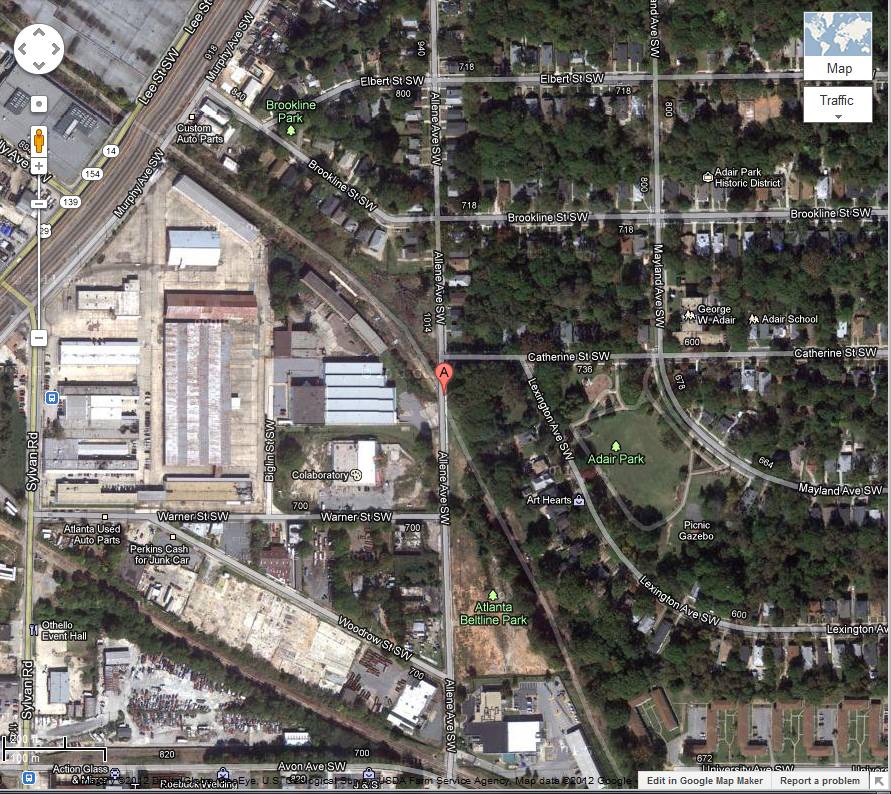 >> Click here to see how the site has changed since 2008
>> Draft plan for potential future urban farm
Organizer of Earth Day on the Atlanta BeltLine
About Keep Atlanta Beautiful: Keep Atlanta Beautiful, an affiliate of Keep America Beautiful, Inc., serves Atlanta by developing and implementing public education and community improvement programs that make a cleaner and greener Atlanta.  These initiatives enhance the quality of life and economic development in the community by instilling pride in community ownership and a behavior change that seeks improvements in littering, recycling, beautification, and natural resource conservation. www.keepatlantabeautiful.org
About Atlanta BeltLine Inc. (ABI): ABI, an affiliate of Invest Atlanta, is the entity tasked with planning and executing the implementation of the Atlanta BeltLine in partnership with the Atlanta BeltLine team including City of Atlanta Departments. Its functions include specifically defining the Atlanta BeltLine plan; leading efforts to secure federal, state and local funding; continuing the Atlanta BeltLine community engagement process; and serving as the overall project management office to execute the Atlanta BeltLine plan, including the coordination of planning and execution activities with other City of Atlanta departments  and managing all vendors and suppliers.  Atlanta BeltLine Inc. is also responsible for tracking and reporting progress on the Atlanta BeltLine to the Atlanta City Council, Atlanta Public Schools and Fulton County, the three taxing authorities that authorized the Atlanta BeltLine TAD legislation in 2005. www.beltline.org
About The Atlanta BeltLine Partnership:  The Atlanta BeltLine Partnership is a non-profit organization committed to raising funds from private and philanthropic sources to support the Atlanta BeltLine; working with neighborhoods, community organizations, faith organizations, businesses and other groups to raise general awareness and broad-based support for the Atlanta BeltLine; and serving as a catalyst to mobilize resources to address the social concerns raised by new development around the Atlanta BeltLine. www.beltline.org
About Trees Atlanta: Trees Atlanta is a nationally recognized citizens group that protects and improves Atlanta's urban forest by planting, conserving, and educating. www.treesatlanta.org
About Park Pride:Park Pride, founded in 1989, is the only organization that works with communities all over Atlanta to improve their parks. Each year Park Pride coordinates more than 15,000 hours of volunteer work in Atlanta parks, develops new conceptual park plans for neighborhood parks and helps start dozens of "Friends of the Park" groups. Park Pride engages communities in programs such as Adopt-a-Park, Park Visioning, Volunteer, Fiscal Partners and Micro Grant programs. In advocacy efforts, Park Pride engages a contingency to take action for more greenspace acreage, including the creation of the Atlanta BeltLine, which promises to create more than 1,000 acres of new parks and 33 miles of trails. www.parkpride.org
About the Atlanta Community ToolBank:
Founded in 1991, the Atlanta Community ToolBank operates the country's largest Tool Lending Program focused on equipping local service groups to implement a diverse range of community improvement projects. With over 160 different tool types available year-round, the Atlanta Community ToolBank has equipped more than 400,000 volunteers to date and serves as the charter affiliate and model agency for ToolBank USA and the movement to replicate the ToolBank model nationwide. www.atlanta.toolbank.org.