Description
Join our Earth Day 5K Green Tour! The tour is a fantastic way to get outside on Earth Day and get involved with some of the great green groups around NYC. Past sites on the tour have included a rooftop farm in Midtown Manhattan, the Lowline Lab, a natural food cooking school, green skyscrapers, and a composting site. This year's line-up will include all-new sites such as:
An urban farm in the financial district just blocks from the World Trade Center
A green vehicle display exploring what makes a vehicle "green"
A discussion with a brand new campaign counting down to the 50th anniversary of Earth Day which will allow people to green their lifestyles in minutes
A green building tour*
You'll travel from site to site, learn about what each group is doing on the ground to help green the city, and end the tour with a free lunch provided by one of our partners. The tour is great for school groups, employee engagement teams, or anyone who wants to learn more about some of the environmental work being done right around the corner.
Includes free lunch, a gift bag, and a pass to the New York Auto Show, courtesy of our partners at Toyota Prius.
(The final line-up of tour destinations is subject to change.)
Can't make it to the Earth Day 5K Green Tour but want to have a big green impact this Earth Day? Check out our Count to 50 campaign to green your lifestyle in minutes! www.countto50.org
FAQs
When will the tour start?
Participants will be scheduled to begin at staggered start times beginning at 9 am and going through roughly 2 pm. If you have a preferred start time, please get in touch to request it. We cannot guarantee that you will receive your requested start time, but will do our best to accommodate.
How long will the tour last?
The total tour will last approximately three to four hours for each group.
How large is each tour group?
Most groups are between 20 and 30 participants. The best way to ensure you are placed in the same group as friends/colleagues is to purchase tickets together. Otherwise, please get in touch to request being placed together.
Are there discounts for schools and non-profits?
Yes! We offer discounted ticket prices for students and non-profits so get in touch for a coupon code.
Is this event rain or shine?
Yes, this event will take place rain or shine and is not refundable due to inclement weather.
Contact us at events@earthdayny.org with any questions.
*Exact sites are subject to change.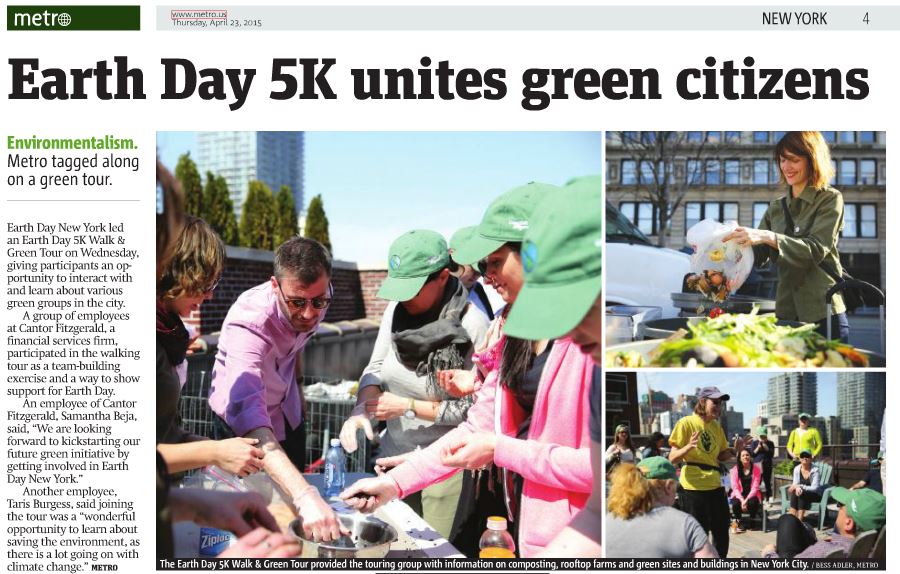 We'd like to extend a big thank you to our Official Partner, Cantor Fitzgerald, for their annual support of the Earth Day 5K Green Tour!