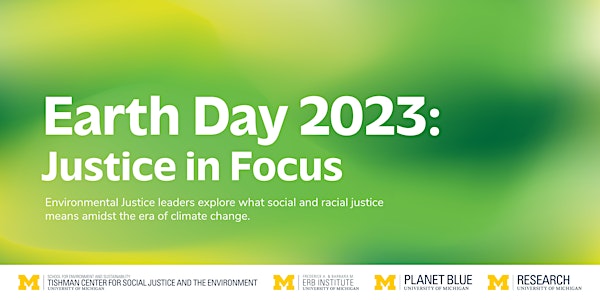 Earth Day 2023: Justice in Focus
Presented by the University of Michigan's Tishman Center for Social Justice and the Environment at SEAS
By U-M School for Environment and Sustainability
Date and time
Thursday, April 13 · 6:30 - 8pm EDT
Location
Rackham Graduate School Auditorium 915 E. Washington Street Ann Arbor, MI 48109
About this event
1 hour 30 minutes

Mobile eTicket
Earth Day 2023: Justice in Focus
Thursday, April 13, 2023
6:30-8:00 p.m.
Rackham Graduate School Auditorium
915 E. University Ave.
Ann Arbor, MI 48109
Free and open to the public
Event description:
After three years of COVID, we are emerging from multiple crises: global pandemic, economic downturn and mass inflation, and a crisis of racial inequality. Earth Day 2023: Justice in Focus seeks to put justice and Earth in the same conversation, removing the silos of environment, human social systems, and political ecology. The University of Michigan, led by the Tishman Center for Social Justice and the Environment at the School for Environment and Sustainability, will bring forth a critical dialogue with emerging and powerful leaders on the frontlines. Participants will have the opportunity to hear from local and national leaders on the inner workings of organizations, solutions, and leadership that emerged through the pandemic.
New Times, Dynamic Leadership
Locally and nationally over the last few years, we were put to the challenge, navigating COVID, racism, and economic crises in the age of climate catastrophe. Leaders all over the nation were asked to step up. Communities historically disinvested struggled to get basic resources while federal and state resources were lagging behind. And yet, we can only imagine more crises unfolding as climate change unfolds.
New times, dynamic leadership asks emerging leaders how they used skills, resources, and social networks to navigate the complex challenges before us. What have we learned through the pandemic? What is needed amidst what's been called the largest Civil Rights movement in the United States? How must we transform our systems to meet these challenges as climate catastrophe unfolds?
Speakers:
Maria Lopez-Nunez
Deputy Director of Advocacy and Organizing
Ironbound Community Corporation
Anthony Rogers-Wright
Director of Environmental Justice
New York Lawyers for the Public Interest
isaac sevier
Founder and Co-director
People's Utility Commons
Learn more about the speakers here.
By submitting this form, you are consenting to receive marketing and communications emails from: School for Environment and Sustainability, University of Michigan, 440 Church St., Ann Arbor, MI, 48109-1041, U.S., https://seas.umich.edu. You can revoke your consent to receive emails at any time by using the unsubscribe link, found at the bottom of every email.
Questions can be directed to tishmancenter@umich.edu.
About the organizer
The University of Michigan School for Environment and Sustainability's (SEAS) overarching objective is to transform higher education and its impact through research, teaching, and engagement in society. It's focused on solving the climate crisis and creating a world that is economically robust, environmentally sound, sustainable and just, from the scale of watersheds and communities in Michigan, to the entire planet.