"The Need to Grow" A fundraiser for the Community Farmers Market at the Chehalis Theater on Earth Day 2020!
About this Event
We are so excited to bring you this award winning documentary on Earth Day 2020. These issues strike right to the heart of our region in Lewis County and to our market farmers who rely on innovation and resilience each year to keep growing the good stuff!
"Shot over three and a half years, The Need To GROW is ultimately a story of underdog resilience. Each character overcomes a major setback, bringing viewers on a ride to not only learn about the astonishing issue of soil health - and the urgent problems of our food system overall - but to connect with characters who offer an inspiring example of what can be accomplished with perseverance and heart."
The Community Farmers Market is a 16 year old 501c3 non-profit made up of local farmers, food processors, and local artisans who are dedicated to supporting local economy and food access.
Community Farmers Market Website
Community Farmers Market Facebook
Community Farmers Market Instagram
The market is located on Boistfort Street in Downtown Chehalis from June through October and open from 11am to 4pm. You will find locally grown and hand-produced fruits, vegetables, preserves, eggs, meats, flowers, body products, crafts, live music and hot foods.
We have an EBT matching system to support low-income residents. Kids can join our free Kids Club for a day or a whole season. Our wellness program connects the community to practitioners with healing solutions.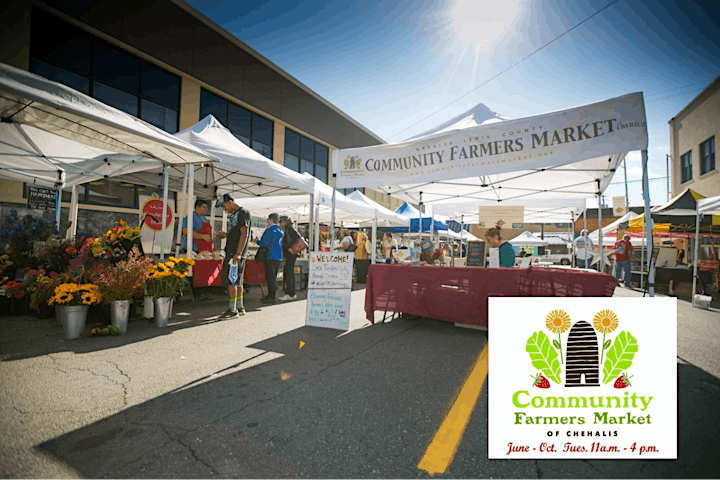 We are so grateful to the Chehalis Theater for their incredible generosity.
"Jacki and Casey Winters keep the building and its history alive, offering a variety of both performance- and cinema-based entertainment. The historic Chehalis Theater currently boasts a 250-seat auditorium with a large stage, movie screen, balcony seating, and full service bar. Viewers can also grab a bite to eat – try the Winters' famous homemade pizza!"
We invite you to show your support on Earth Day 2020 to local businesses and local farmers. All ticket sales will benefit the Community Farmers Market. We are so grateful to this community for its generous support, and we can't wait to open the market in June!