Description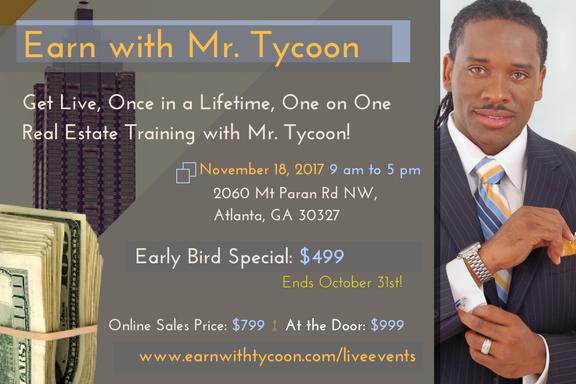 Learn to Buy and Sell Real Estate with No Money and No Credit

Make A Lot More Money Doing A Lot Less Work

Get Mr. Tycoon's Playbook for Closing Real Estate Deals


Why You Can't Afford to Miss Out on

this Special Boot Camp:
Live Workshops are the fastest way to learn PERIOD. Home study and online programs are great but as humans we tend to procrastinate and live events don't allow you to procrastinate!

The real estate market is in the perfect storm right now and you will be passing up a lifetime of financial Freedom if you don't capitalize on the current market!

I show you step-by-step strategies that work best right now to put quick cash in your bank account.

You'll learn quick cash strategies do NOT require you to have a bank full of cash or good credit. I'll show you how to play match maker and make $5,000-$40,000 per deal.

This is NOT a SALES EXPO. I Will NOT be parading a bunch of speakers on stage to sell you stuff. In fact, there will be ZERO guest speakers at the workshop.

This is a TEACH-A-THON.

Investing in your education is the best investment you can make! Nobody can ever take away the knowledge and skill set you'll acquire.

What You'll Learn at the Wholesale Workshop
The easiest and most overlooked ways to find deals in your market that lead to consistent pay days

The #1 document you must always use to guarantee you get paid

How to tap into an unlimited source of buyers your competition doesn't know about

How to maintain a steady flood of daily deals in your pipeline


The 3 forms of paperwork most new investors forget to include that can cause hang ups at the closing table (and keep you from getting paid)


How to spot the most profitable deals that put the most money in your pocket


Know how to build an automated business that runs without you and continues to pay you while you do what you love; it's safe to quit your job and rely on your real estate income full time (Most investors stay at their old jobs far too long…)


And Much Much More . . .

After You Implement these Strategies, You'll Be Able To:
Pay off all your past due bills or lingering credit card balances

Start building (or rebuilding) your retirement account so you never have to worry about running out of money during retirement

Quit your JOB (Just Over Broke) and live your life in freedom
Date and Time
Location
Refund Policy