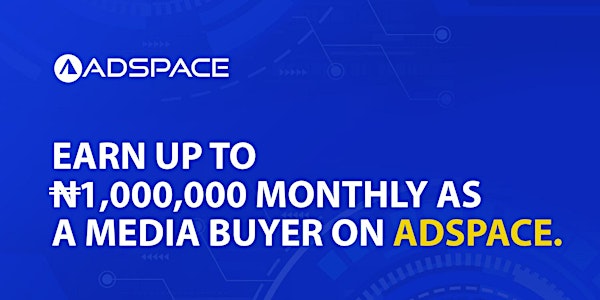 Earn up to N1,000,000 monthly as a Media Buyer on Adspace
Join our seminar to learn how to become a high earning media buyer.
About this event
The Nigerian media buying market cap is expected to reach a landmark $500 million total net worth this year and Adspace is well-positioned to help media agencies, media buyers and freelancers extract maximum value from this market. With Adspace, you can easily earn a portion of $500 million by using growing your network. Adspace lets you work just like a real estate agent but from home and earn up to 10% commissions by connecting the brands you work with to listed advert spaces on Adspace.ng. During our BETA launch, our media buyers received an average total monthly commission of N1,000,000 and now we are opening up the opportunity to the market.
To understand how Adspace works, sign up for our seminar taking place on the 24th of November, 2022 on the link below