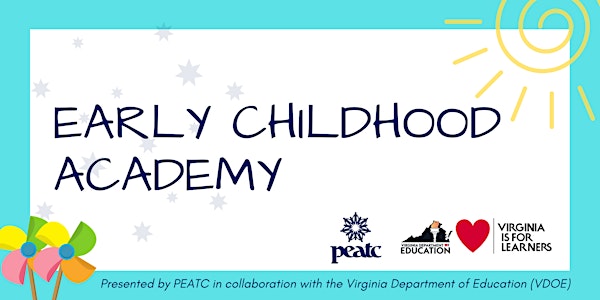 Early Childhood Academy (ECA) Spring 2021
Sales Have Ended
Registrations are closed
Registrations for this session of Early Childhood Academy has closed. We will be offering this course again, so keep an eye out on our website and Facebook page for information on that. If you would like to be added to the waitlist for this event, contact us at gibson@peatc.org
Early Childhood Academy is a free self-paced course offered by PEATC in collaboration with the VA Department of Education.
About this event
Are you the parent of a young child with a disability or delay? Does your child receive Early Intervention (EI) or Early Childhood Special Education (ECSE) services? Do you work with young children with disabilities or do you (or the parents you work with) have questions about navigating the Early Childhood system in Virginia?
The Early Childhood Academy, presented by PEATC in collaboration with the Virginia Department of Education, is for you! This FREE self-paced online course is an innovative parent-friendly resource focused on providing information parents with infants, toddlers, and preschoolers need to know -- the importance of parents as 1st teachers, early childhood services, special education, resources available to parents of young children with disabilities, and more! Learn practical information to help set the foundation for your child's lifelong learning and to make the transition to preschool and kindergarten less confusing.