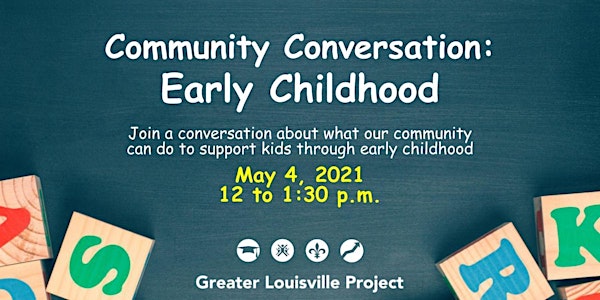 Early Childhood: A Community Conversation
Join a conversation about what our community can do to support kids through early childhood
About this event
Friday, April 30, Greater Louisville Project released its Early Childhood report. he report shows that there are several factors that influence gaps in kindergarten readiness, positively and negatively. One of the biggest drivers is prior setting, and the data dives deeply into barriers to accessing high quality early childhood experiences, alongside adverse childhood experiences and food insecurity.
As we continue our effort to create open dialogue on a variety of important topics, we hope you will join us for a brief presentation and an open discussion about early childhood, the data, and what Louisville can do to help.
Experts
Tony Peyton | Program Director | The C.E. & S. Foundation
Kish Cumi Price, PhD | Senior Policy and Advocacy Director, K-12 Policy | Kentucky Youth Advocates
Ashley Brandt | Senior Manager, Early Care and Education |Metro United Way
Kristen Williams | Executive Director | Play Cousins Collective Inc.
Data Presenter
Harrison Kirby | Data Scientist | Greater Louisville Project
Moderator
Monica Unseld, PhD | Director of Community Engagement | Greater Louisville Project