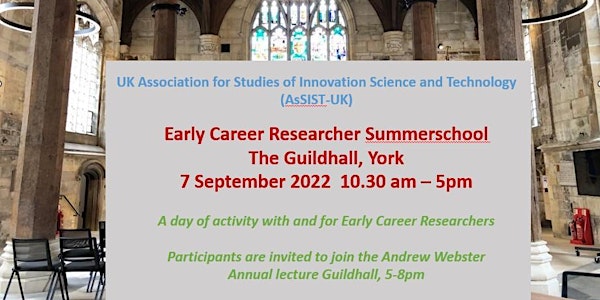 Early Career Researcher Summerschool The Guildhall, York 7 September 2022
Location
The Guildhall York
Coney Street
York
YO1 9QL
United Kingdom
Join us for a day of activity with and for Early Career Researchers (ECRs) on Wednesday 7 September 10:30 am - 5:00 pm at The Guildhall York
About this event
We invite Early Care Researchers (ECRs) to join a day of activity at The Guildhall in York with and for ECRs as part of a programme of activities organised by AsSIST-UK (the UK Association for Studies of Innovation, Science and Technology) to support ECRs in the post-pandemic period.
Planned plenary and small group sessions include developing your post-doc career; publication strategy, funding application workshop and "rent-a-mentor".
Refreshments and lunch will be provided. Thanks to generous support from the University of York, Science and Technology Studies Unit/Sociology, there is no charge for participation.
Participants are also warmly invited to join the Andrew Webster Annual Lecture (Guildhall, 5-8pm) in celebration of the life and contribution of AsSIST-UK's co-founder, Professor Andrew Webster (1951-2021). HERE is a link to register for this.
We hope that participants will be able to secure funding for travel and accommodation costs. There is a modest bursary for those unable to secure support. Please email: R.Williams@ed.ac.uk