Description
TANYA WHITE PRESENTS YES, I AM ENOUGH THE NEXT LEVEL: LOVING, LIVING & SHARING MY ENOUGHNESS 5-CITY CONFERENCE/BOOK TOUR
Our first stop is Saturday, April 6, 2019 in Louisivlle, KY. Time: 9:00 A.M.-4:00 P.M. Location: New Century Fellowship Christian Church-Platinum Sponsor Syvoskia Bray-Pope, Pastor 1875 Farnsley Road Louisville, Ky 40216
UPDATED 3/13/19: WE'VE DECIDED TO KEEP THE REGISTRATION TO $29 UNTIL IT CLOSES ON 4/1/19.
Early Bird Registration Begins 1/1/2019 Through 4/5/19. Price is $29 which includes light lunch & signed copy of Tanya White's upcoming new book YES, I AM ENOUGH THE NEXT LEVEL: LOVING, LIVING & SHARENESS MY ENOUGHNESS.
REGISTRATION ENDS 4/4/19.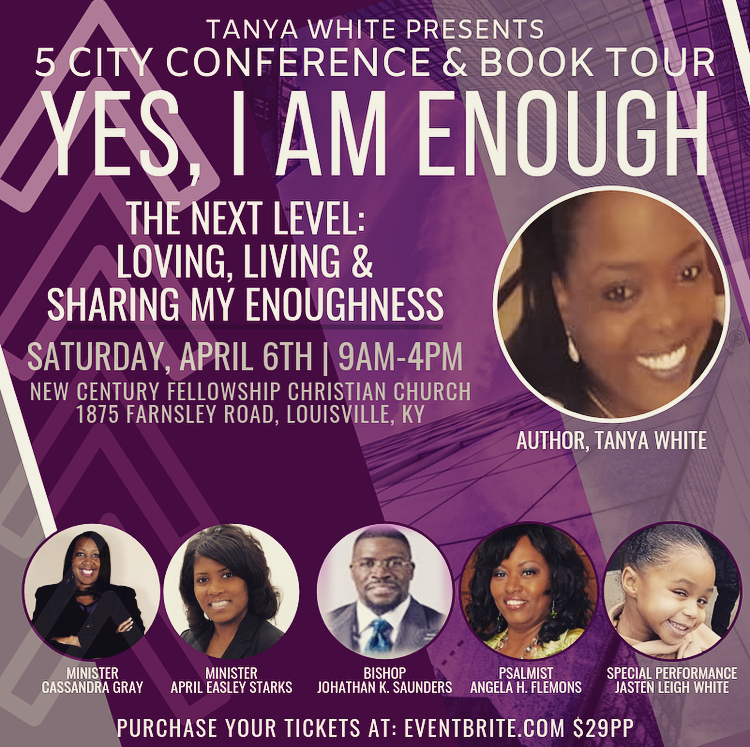 Our Louisville Speakers will be:
Min. Cassandra Gray (www.cassandragray.com) , Min. April Easley Starks Bishop Jonathan K. Sanders (http://jksandersministries.org/)
Psalmist will be Angela H. Flemons and a special performance from 5 year old Jasten Leigh White
Limited Vendor spaces are avaialble for the early bird price of $65. Please email tanya@tanyawhite.com with TOUR VENDOR TABLE INFO in the subject line.
Also, if you would like to be a sponsor of the 5-city tour or the just a sponsor of one of the city events, please email tanya@tanyawhite.com with SPONSORSHIP INFO in the subject line
TO VIEW LAST YEARS CONFERENCE, PLEASE CLICK https://youtu.be/2-F_T_SY6yw
REFUND POLICY: Refunds for registration will be given up to 30 to before the event. For vendor and sponsorship, no refunds will be given.