Location
Newland School for Girls
Cottingham Road
Kingston upon Hull
HU6 7RU
United Kingdom
Description
Don't miss it! - EAL TeachMeet!
A very rare and unique opportunity! Come along, present, share ideas and learn from others on how to teach and support EAL Learners in mainstream classrooms. There are very few EAL TeachMeets out there, and even fewer opportunities like this (if any!) in the Yorkshire / Humberside area - don't miss this one!
We are very proud that Frank Monaghan has agreed to come all the way from London to deliver a keynote on The Distinctiveness of EAL. Frank is a co-opted member of NALDIC (National Association for Language Development in the Curriculum), editor of NALDIC Quarterly and Senior Lecturer in Education and Language Studies at the Open University.
Come, listen and share practice with other practitioners in the EAL field and teachers working in the mainstream with EAL learners, and network!
Sign up at: http://www.eventbrite.com/e/eal-teachmeet-hull-tickets-14995055615
Presentations
You will be able to deliver either a 7-minute or 3-minute presentation on the topic of EAL - as long as it is within the theme of EAL in the Mainstream, we'd like to hear it!
You must be a teacher or support staff in a classroom - EAL or mainstream.

You cannot pitch any products for sale.

You can use any presentation format you'd like; if you are using a digital presentation such as PowerPoint, please send your presentation before the event.
If you are not presenting, you are welcome to simply join us and take it all in - regardless of whether you are a teacher, support staff, and regardless of the sector you are in.
Current speakers:
1. Keynote: Frank Monaghan (NALDIC's Co-opted member + editor of NALDIC Quarterly): "The Distinctiveness of EAL Pedagogy"
2. Dianne Excell (NALDIC; EAL and Literacy Consultant, Feversham College): "Embedding good EAL practice across the secondary curriculum"
3. Chimene Gowland (Director of English and Literacy, Newland School for Girls): "Transferring Good Literacy Practice into Mainstream EAL support"
4. Kamil Trzebiatowski (EAL Coordinator, Newland School for Girls): "The Power of DARTs (Directed Activities Related to Texts): Teaching EAL and Native Speakers of English across the Curriculum"
5. Lukasz Materowski (Assistant EAL Coordinator, St Mary's College, Hull): "EAL in the Mainstream. Collaboration between EAL and EAL colleagues for the benefit of EAL learners."
6. Sally Witts (Director of Creative and Performing Arts, Newland School for Girls): "EAL in the practical learning environment"
7. Michelle Verity (EAL Coordinator, Archbishop Sentamu Academy): "EAL at ASA"
8. Anne Marie Delaney (EAL Teacher, Ladybridge High School): "Differentiation Through Language Proficiency"
9. Danny Topham (English Teacher, Newland School for Girls):"English/EAL Partnership Teaching"
10. Nikki Mercer (EAL Teaching Assistant, Newland School for Girls): "Effective Collaboration Between EAL Teaching Assistants and Mainstream Teachers"
11. Christiana Rose (Team Leader for EAL & Equalities, Durham City Council): "Teaching Tenses Through Tasks"
Programme:
4.30-5.00: Refreshments served and opportunities to network with other attending colleagues
5.00-5.15: Frank Monaghan's keynote: "The Distinctiveness of EAL
5.15-5.45: First batch of presentations
5.45-6.00: Break and networking opportunities
6.00-6.30: Second batch of presentations
The event will conclude with giving out some prizes!
Follow EAL TeachMeet on Twitter!
Please follow @HullEALTM on Twitter! Our hashtag is #HullEAL
You may also choose to follow the organizer of this event, Kamil, at @ktlangspec.
Our official advert for the event is below: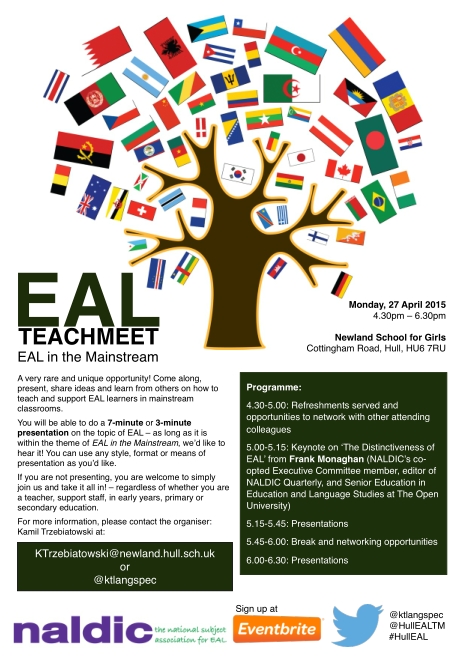 There will be a book stall from Multicultural Bookshop, too!

Our prizes are kindly donated and provided by: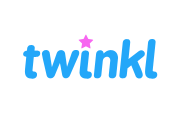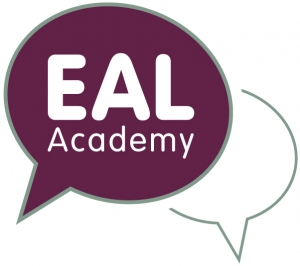 We are looking forward to seeing you!