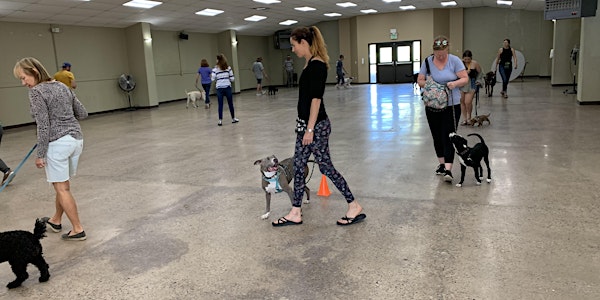 Eagle Valley Humane Society Adopted Dog Training and Behavior Class
Free Dog Training and Behavior class is to help with behavior issues, general training, and socialization for your new or existing dog.
When and where
Location
Exhibit Hall Eagle County Fairgrounds 426 Fairgrounds Road Eagle, CO 81631
About this event
The Humane Society provides this class for free. It occurs in Eagle on Tuesday nights from 6-7pm. The day of the signup is the beginning of the 6 week class, you only need to sign up for the start date to participate in the 6 weeks.
This is a positive reinforcement training and behavior class. We have a team of volunteer trainers with years of experience, overseen by Char Gonsenica, a Certified Professional Dog Trainer (CPDT-KA). Thanks to the help of our Training Team Volunteers (Gigi, Lara, Emily and Tati), we are able to provide one on one attention when needed during class.
*****THE FIRST NIGHT OF CLASS IS FOR PEOPLE ONLY, PLEASE DO NOT BRING YOUR PET, OR IF WEATHER IS PERMITTING, YOU CAN LEAVE YOUR DOG IN THE CAR****
The first class will focus on us teaching you how to understand your dog, dog body language, how dogs learn, and most importantly how to have the best relationship with your dog. Having a great relationship helps to have a well mannered family pet!
The following 5 weeks are for you and your dog!
Please bring to class a regular leash, no extended leashes, and any special diet treats. We will have treats available too.
It is okay if you miss a week or two during the 6 weeks, we can catch you and your dog up on anything you missed!
Feel free to contact Char with any questions via phone, email or text. humane@vail.net and 970-280-5738
By signing up for this class you agree to the following liability release:
This training class will involve the interaction of your pet with other dogs and owners. Our techniques are humane and effective. However, whenever dogs and people interact, there is a potential for injury to either the dog or the person in the form of biting or other types of defense mechanisms used by dogs. Therefore, it is necessary for participants to sign this release.
I have voluntarily entered this class situation with my dog. I understand the above, and will not hold the Eagle Valley Humane Society or their employees, volunteers, board members, or owners liable should any injury occur to my dog or myself. I also agree not to hold liable any other class member or their pet should any injury occur.