Description
Eagle, CO and the Eagle Outside Festival…where the trails are dry, the sun always shines…and the consumers come ready to purchase their next dream ride.
We've queued up a great event over the course of the past 10 years. The demo is incredibly well organized, surrounded by 60-minute mini-epics that guarantee lots of turns on your inventory, features amazing racing, live music, womens' and kids' clinics, group rides, a BMX track, pump track and a full list of other activities to keep the energy ramped up.
This year we are expanding the "outside" in Eagle Outside to include more activities. Fishing, paddlesport, moto, yoga and other vendors will be included.
We're thrilled to have you and like to show our gratitude by providing cheap prices, low cost lodging options, tons of "Boot Bucks" for you demo team to use for food and beer, and a community that has fully rallied behind our trails and open space creating an outdoor recreation paradise.
Scroll below for all the beta on 2018 or click here for the pretty pictures and stats to send to the boss. See you in Eagle on June 2-3!
Load-in and Load-out Info
We have permanent and temporary (daily) spots available. By "permanent" we mean larger vehicles, trailers, canopies and tents that are meant to be set up and left in one place for the entire weekend.
Friday, June 1: 6-9pm load-in.
Saturday, June 2: load-in (daily vendors): 7-9am – check in point is at Capital and Founders (were the yellow meets the green on the map). Once you arrive, we'll load you in in the order in which you showed up.
Saturday load-out (daily vendors): 5-6pm
Sunday load-in (daily vendors): 7-9am – same load-in meeting location as Saturday.
Sunday load-out (all vendors): 4-5pm
EXPO ADDRESS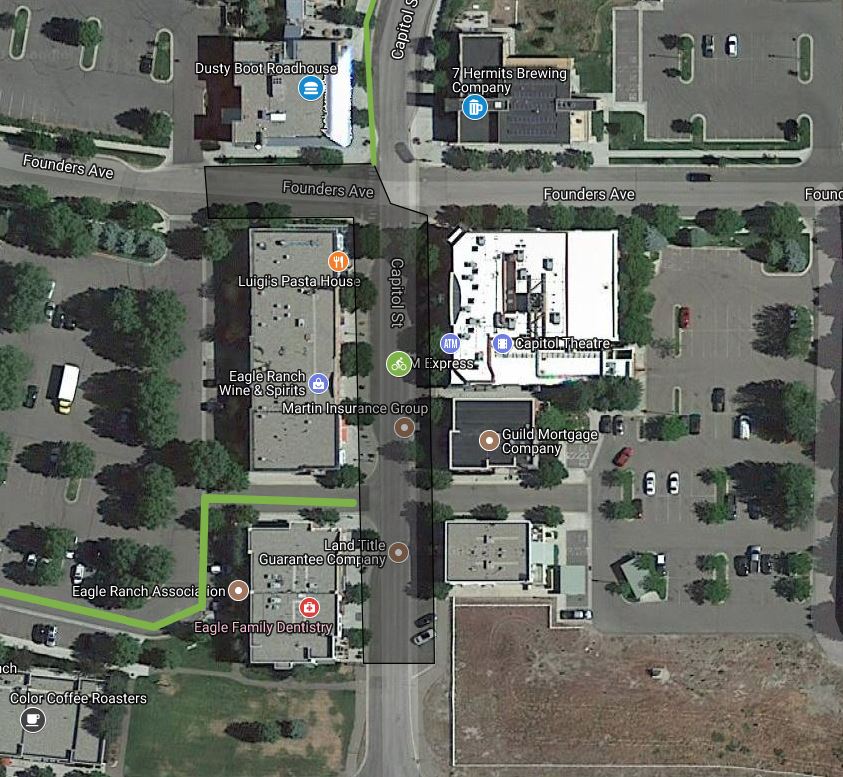 1099 Capitol Street Eagle, CO 81631(this is the Dusty Boot in Eagle Ranch)
Exit I-70 at Eagle and head south. At the third roundabout (just past the bridge that spans the mighty Eagle River – head right on Grand Avenue. Stay in the left lane and take your first left (Capitol St.) Follow Capitol for approximately one mile to Eagle Ranch Village. When you look to your right and see a bunch of locals boozing it up on the back deck of a restaurant, you've made it. That's "The Boot."
Dates
Saturday, June 2: 9am-5pm
Sunday, June 3: 9am-4pm
Fees & Discounts
Fees? Simple;
SMALL: 200 square feet or less: $150
MEDIUM: up to 400 square feet: $250
LARGE: 400′ +: $350

All setups receive a $5

0 gift card to the Dusty Boot and Luigi's Pastahouse.
Fees will also include a Town of Eagle Annual Business License if needed.
All setups receive a $50 gift card to the Dusty Boot and Luigi's Pastahouse.
Are you an Eagle business owner? You get $50 OFF! Have your people call my people (I dont have people, just call me - 328-9625)
Questions? Hit me up at jeremy.gross@townofeagle.org
EAGLE OUTSIDE FESTIVAL – June 2-3, 2018
Home of one gigantic kickass demo, The Haymaker Hotlap Mountain Bike Time Trial, The Chromoly Chef Frankenbike Building Comp, The Bonfire Block Party Music Festival (now 2 DAYS!), and the Beer Mile and Milk and Cookies Run (for the kids). All demo teams get at least $50 in meal cards that can be used at the Dusty Boot or Luigi's Pastahouse, plus a fresh 6-pack of 7 Hermits latest waiting for each demo rig when you arrive.
– Race entries included based on footprint size (SM:1, MD: 2, LG: 3).
– Price range: $150-350
– Ask us about value-driven event partnerships.
– www.eagleoutsidefestival.com