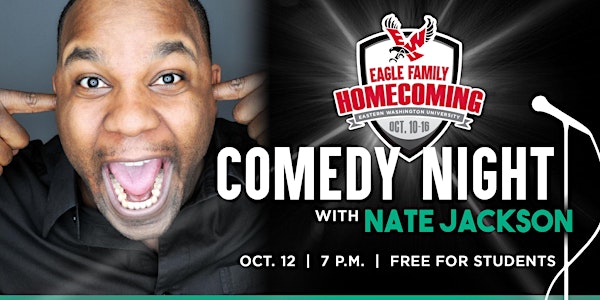 Eagle Family Homecoming Comedy Night with Nate Jackson!
Join the EWU community during Homecoming week for Comedy Night with alumnus & celebrity comedian, Nate Jackson '06!
When and where
Location
Pence Union Building (PUB): Nysether Community Room (NCR) 926 Elm St. Cheney, WA 99004
About this event
Eagle Family Homecoming Comedy Night
Wednesday, Oct. 12 | 7 P.M.
Join us for Eagle Family Homecoming Comedy night, an evening full of laughs with alumnus and celebrity comedian, Nate Jackson! Nate owns the largest of six black-owned comedy clubs in the nation and has starred in NBC's YoungRock, Curb Your Enthusiasm, WildnOut, HBO All Def, TruTv Lafftracks and more!
EWU Alumni Association & Student Affairs is excited to invite fellow Eags for a night together, bring your friends and make new memories during Homecoming week!
Time:
7pm | Emcee Kick-Off
7:10pm | Meanroth Ny (Opener)
7:30pm | Nate Jackson (Headliner)
8:30-9pm | Meet & Greet
Tickets:
Free | EWU Students
$10 | Non-students, Alumni and community members
You can request an accommodation by contacting EWU Office of Alumni Relations at ewualum@ewu.edu by Oct. 10, 2022 if you need accommodations.