St. Jude 2021 Fundraiser at The Claremar Twinlakes Camping Resort & DreamLife Amphitheater
About this event
Please join us September 10th and 11th for the 7th annual St Jude Benefit at Claremar Twin Lakes Camping resort and Dreamlife Amphitheater!
2 days of music and plenty of fun outdoor games and activities to enjoy as we celebrate and honor our founder Terry Peters. This year is incredibly special as we continue in Terry's memory to raise funds for her passion and support of St. Jude Hospital. All proceeds from the events will be donated to St Jude Hospital. St. Jude treats patients from all 50 states and around the world. Their mission is in finding cures and saving children. No family ever receives a bill for treatment. They function solely on fundraisers such as ours. With your help we can make a difference!
We will start the weekend off Friday September 10th with a field day and concert at the new DreamLife Amphitheater. Full day of activities and entertainment to kick things off for the weekend. There will be live music, food and art vendors, lawn games, auctions, raffles and more.
We are happy to announce Renegade as our opening band for the evening. Renegade is a specialized group brought together to represent the genre of Southern Rock. Renegade provides an energetic experience with 3 guitars, bass, drums, lead and backup vocals. Playing the best classics in southern rock from Lynyrd Skynyrd, Allman Brothers, Molly Hatchet, Black Crows, and more!
The main attraction for the evening will be the one and only E5C4P3-The Journey Tribute Band! E5C4P3 was formed in June of 1993. From that year through 1999 E5C4P3 traveled nationwide and paid tribute to one of rock history's most beloved bands performing for tens of thousands of fans. E5C4P3 is still known today as the original and best Journey tribute band to ever exist. The band covers the music with a note-for-note accuracy that is second to none and performs each show with the high-energy excitement of a real Journey concert as well as visually recreating the essence of early 80's Journey! Focusing on the 'Steve Perry era', E5C4P3 covers all the hits from 'Lights' and 'Wheel In The Sky' to 'Separate Ways' and 'Be Good To Yourself' including occasional surprises for all the die-hard Journey fans.
The big auction item for the night is a custom golf cart! Raffle ticket sales for the golf cart will end at 6:30 p.m. and the winner will be announced shortly after on stage. Tickets include lawn seating so bring your lawn chairs or blankets and enjoy the show!
Saturday will take place all throughout the campground. We have tons of fun activities and competitions planned for an all-day good time! Get your teams together and ready for the blind golf cart race, volleyball and basketball tournament, and food eating competition just to name a few. The main auction will be held at the main pavilion so make sure you get your raffle tickets early for a chance to win some amazing items!
We'd like to announce our partnership on this event with Angela Arms Senior Pet Refuge we will be working together to bring some extra amenities to this event that wouldn't be possible without Angel Arms as well as raising money for these senior pets alongside of effort for St. Jude! Make Sure to stop by there booth and show support the day of the event!
Angel Arms Senior Pet Refuge was established to provide a final and loving foster home for senior and/or unadoptable pets who have been displaced from their homes and/or abandoned. This forever home is a loving alternative to euthanasia for the older fur-babies that need a warm and comfy place to live out their last days.
Angel Arms does not adopt out the senior or special needs pets we take in. The event of losing their family, loved ones, or being abandoned/lost is an extremely stressful time for these pets and we want to make their final days, months, or years as safe, loving, and peaceful as possible.
Please read the ticket and camping options below before completing purchase as we are offering multiple options from overnight festival style camping, day passes, VIP, and everything in between.
This is an all-ages event. Children 3 years and under are free to attend. Tickets will be available both online and at the Twin Lakes campground office. If interested in donating auction items, cash donations, sponsorships, volunteering, interested in being a vendor at the event, or have any questions, feel free to contact us at Dreamlifesj2021@gmail.com One of our team members will be happy to help.
Ticket Tier Description
$10 Day Parking Pass
$20 GA ticket - General Admission Day Pass
$30 VIP ticket- VIP Admission Day Pass with VIP Viewing Areas By Mainstage
$40 GA Car Camping Pass- General Admission Car Camping Pass Includes Parking Pass for 1 Vehicle With Campsite Next To Your Vehicle. DOES NOT INCLUDE TICKET TO EVENT
$60 VIP Car Camping Pass- VIP Car Camping Pass Includes Parking Pass For 1 Vehicle With Campsite Next To Your Vehicle . DOES NOT INCLUDE TICKET TO EVENT
$120 GA RV Camping Pass- Includes 2 General Admission Tickets, General Admission Parking Pass For 1 RV With Campsite Next to RV. DOES NOT INCLUDE WATER OR ELECTRIC HOOKUP
$225 VIP RV Camping Pass- Includes 2 VIP Tickets, VIP Viewing Areas By Mainstage, VIP RV Parking Pass for 1 RV With Campsite Next to RV For Both Friday & Saturday Night Including Water and Electric Hook Up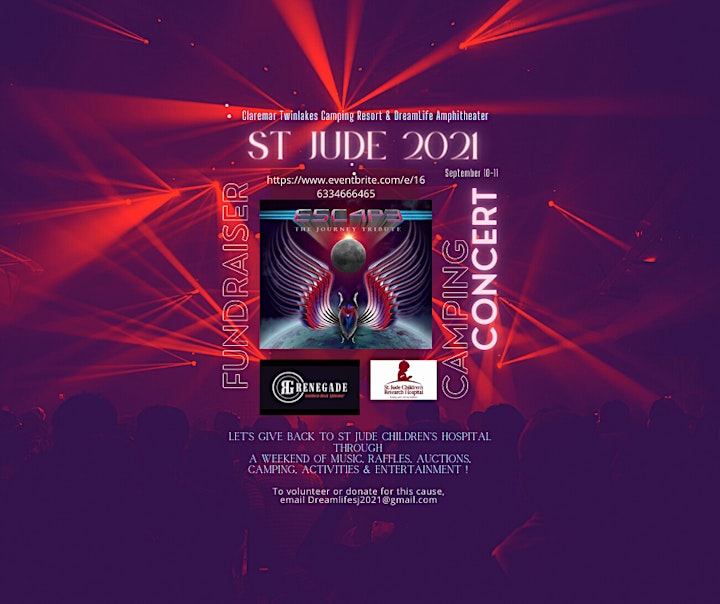 Organizer of E5C4P3- The Journey Tribute w/ Special Guest Renegade for St. Jude 2021