Description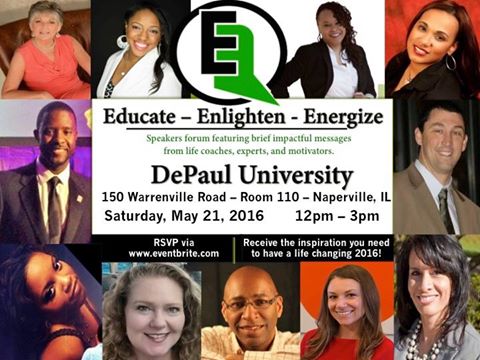 Order E3 tickets via Eventbrite:
http://www.eventbrite.com/e/e3-speakers-forum-educate-enlighten-energize-tickets-23173679098?aff=efbevent

Time: 1 PM - 4 PM


E3 (Educate, Enlighten, Energize) is the speakers forum you need. A "speakerpalooza" featuring brief impactful messages from life coaches, experts and inspirations...Get what you need to restart you on your path to a new you for 2016.
The Format
A multi-speaker forum that features speakers across a number of topics presenting for 10-15 minutes each. Attendees will have a chance to listen and connect with each speaker at the post event reception.
Speakers will be from multiple areas including: self-help, business, and empowerment. Post Event, youl'll be able to talk with each speaker, and purchase a copy of their book at a special reception.
Confirmed Speakers:
* Businesswoman/Author/Radio Host/Coach - Alicia Bowens
Time: Noon - 3:00pm
* Businesswoman/Author/Radio Host/Coach - Alicia Bowens
* Money Consciousness Coach - Lynn Torre
* Author/Motivator - Andrea Wright
* Health Coach - Donna Lakinger
* Emmy Nominated Filmmaker - Jon Ross
* Author/Life Coach/Radio Host - Jaime Gill
* Marketing Expert - Brian Tomkins
* Relationship Coach/Author - Yanni Brown
* Analytics, digital marketing & business building expert - Pierre DeBois
* Emmy Winning Founder of The Local Tourist - Theresa Carter- Goodrich


* Hosted By Life Coach/Businesswoman - Julia Skeesick


Please RSVP (Space Is Limited):
VIP Guests Receive their choice of free autographed book by participating speaker or a 30 minute post event consultation from one of the life coaches.