#E1T14PD's Soft Skills for the Modern Professional (2 Sessions - AM or PM)
Description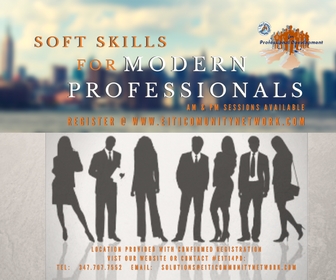 Hard Skills are not enough for career success in the Modern Workforce, and professional etiquette is at an all-time low, with one recent Salesforce study citing, of all the reasons for New Hire failure, 89% are due to attitude problems.
Having the right SOFT SKILLS is necessary for any modern professional. Forbes magazine recently released an article from a book written by an in-house writer on how professionals can navigate the employment sphere. It indicated that 98 percent of employers list communication skills as their most important hiring criteria when considering candidates....and attitudes, equate to a lack of communication skills.
The reason Soft Skills are essential is because they can often translate to greater ROIs and investments in general, but can also improve an individual's professional "value" tremendously, sometimes compensating where higher education criteria are lacked.
In today's Modern Workforce many new hires are thrown into an office culture, unique to every organization, without understanding the implied expectations of vetted colleagues. Career Changers, who may be accustomed to a more structured, less flexible form of professionalism, are also finding it difficult to navigate today's modernized strategies.
Whether, new hires, or seasoned professionals, you need to understand the core of what modern professionalism is, why it is necessary in today's workforce, and how to make it work for you. This workshop will leave you motivated and equipped with the professional tools and strategies necessary to stand out from the crowd, and excel on your professional journey.
This strategy event will discuss the following
People Management

Effective Communication

Time Management

21st Century Problem Solving and Critical Thinking
This training comes with music, games, raffles, light refreshments, boozy desserts and wine options as well.... but more so turns learning into an entertainment filled event, with one of the BEST Professional Development consultants in the country, making it an event you don't want to miss!
GET YOUR COMPETITIVE EDGE ON & SOAR PAST THE COMPETITION!!!!
General Passes Include:
(1) FREE 30-45 Minute Professional Brand Strategy Session

$10 Coupon off Graphic Resume Special

Raffle Entry

Light Refreshments
VIP Passes Include:
(3) FREE 30-45-minute STRATEGY SESSIONS with Latefa Harmon, the Workforce Doctor

ELITE Professional "Schwag" Bags stuffed with goodies

FREE Graphic Resume or Cover letter UPGRADE Service

Raffle Entry

Special Reserved Selected Seating

Boozy Dessert & Wine Bar

Light Refreshments