Description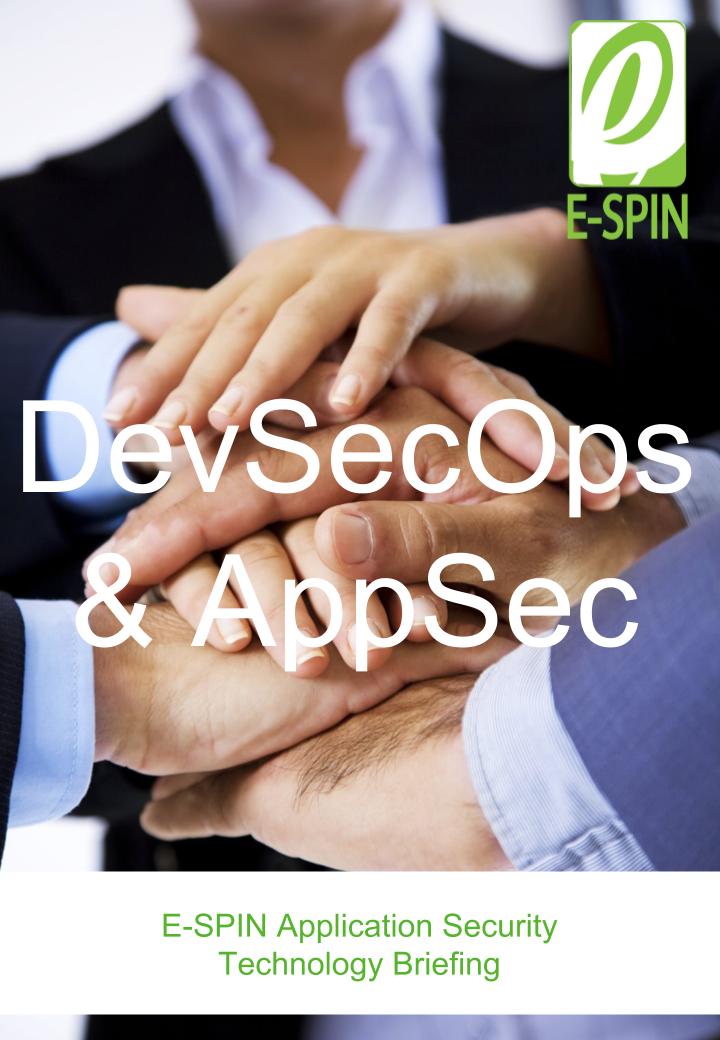 Please join E-SPIN Group for an day of networking, food, and fun. This event will provide those in technology and cybersecurity, in particular CyberSecurity professiona, Secure Developer with the opportunity to grow their security knowledge via an immersive hands-on cybersecurity sharing experience.
Participants will take the reins in an expert-guided solution in depth topic interactive talk session to learn first hand experience from the expert speaker into various cybersecurity topics and more!
This event is intended for mid and high level managers responsible for cybersecurity or development programs who are looking for a fun and engaging way to get their teams excited about cybersecurity; and for developers and testers at varying levels, from those with limited cybersecurity expertise who are looking to learn security skills through expert sharing lesson, to seasoned developers & testers who are looking to expand their cybersecurity skills.
This round event focus on modern DevSecOps and Application Security refresh, changes, challenges and solutions. Include "DevSecOps" for modern industry best practice for speed application development, test and release, integrated with all the application security testing (AST) into entire workflow. Direct to the point topic sharing on how the traditional application security testing (AST) fail to address the DevSecOps and the new way the global is adopted and helping the organization 30x to 100x faster to roull out application and perform continuous security testing by automated, integration. All the latest look like complex application security technology will be explain and cover under this event, secure development, static application security testing (SAST), interactive application security testing (IAST), dynamic application security testing (DAST), software composition analysis (SCA), secure IDE and code review all will cover under the event.
The event tenative will take place at E-SPIN Petaling Jaya training room, but if the event is over subscription, we will move it to near by bigger facility for the event.
---
Event Detailed
9:30am Registration & Refreshments
10:00am Welcome & Introduction (Vincent Lim, E-SPIN)
10:15am "Application Security Shift Left and DevOpsSec Challenges and Solutions" E-SPIN's presentation (Vincent Lim, E-SPIN)
10:55am Q&A
11:00am "Veracode Application Security Platform" (Veracode or by E-SPIN)
11:45am Q&A
11:50am Group Photo
12:00pm Lunch (light set lunch will complement by E-SPIN for the attendees)
1:00pm Panel of Industry Expert Sharing on their thoughts on the series of Cyber Security Topics (Guest Panel of Expert 1,2,3,4 may pick from attendees)
2:00pm "Service Virtualization and Complex API Testing" (Parasoft or by E-SPIN)
2:40pm Q&A
2:45pm Tea Break and Light Refreshment
3:00pm "Acunetix Web Vulnerability Scanner v12 Whats New and Feature Overview, and the impact for the existing customer" (Acunetix or by E-SPIN)
3:40pm Q&A
4:00pm End
Please come and enjoy our solution seminar on event date and perform registration with Eventbrite page only :
The event attendance strictly by invitation only,

each of the invite company only.
It is recommended attendance active involvement on the Q&A and networking session to maximize the event benefits.
Lunch will be provided.
Space is limited, so please register soon.
Be note that upon register (please use business email only, else due to no able to identify and verify your identity, our officer will manual cancel the ticket you received).
---
Key Event Team Members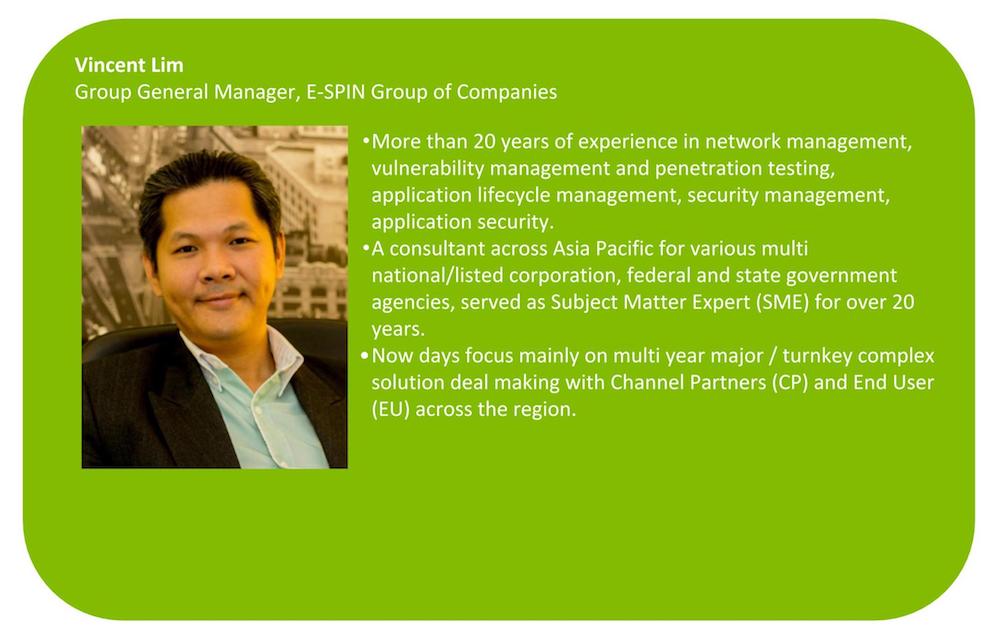 Vincent Lim, Group General Manager, E-SPIN Group (serve as Event Coordinator)
Vincent Lim is Group General Manager of E-SPIN Group, enterprise technology solution firm that specializes in network management, vulnerability management and penetration testing, application lifecycle management, security management. A consultant across Asia Pacific for various multi national/listed corporation, federal and state government agencies for over 20 years.
Guest Speaker 2 (will be update as near the event)
Guest Speaker 3 (will be update as near the event)
Guest Speaker 4 (will be update as near the event)
Panel of Industry Expert Session (may pick during the event from attendees)
Guest 1 (will be update as near the event)
Guest 2 (will be update as near the event)
Guest 3 (will be update as near the event)
Guest 4 (will be update as near the event)