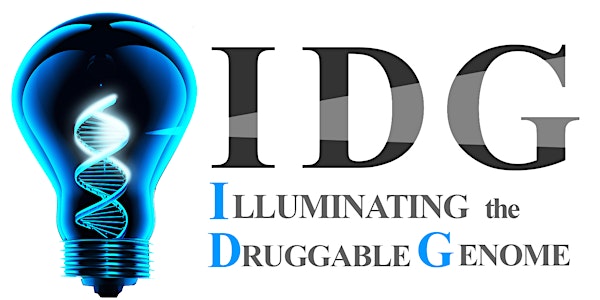 e-IDG Symposium Series - Oct. 4, 2022
e-IDG Symposium Fall 2022: One-hour sessions with speakers covering a theme (Informatics, Kinase, GPCR, Ion Channel).
About this event
Date: October 4, 2022
Time: 9-10 AM PT /10-11 AM MT / 12-1 PM ET / 17-18 UK
Theme: Kinases
Speakers:
Dr. Jared Johnson, PhD and Dr. Tomer Yaron, PhD, members of the Lewis Cantley laboratory
Presentation Title:
"The Kinase Library: A substrate specificity atlas of the human kinome and its application to high throughput phosphoproteomics data"
Tags: #idg #drugdiscovery #kinase #kinome #phosphoproteomics #kinasesubstrate
Additional Information for this session:
In collaboration with the labs of Benjamin E. Turk (Yale University) and Michael B. Yaffe (MIT), the Cantley lab utilized synthetic peptide libraries to profile the substrate sequence specificity of nearly every functional Ser/Thr kinase including 86 dark kinases. The kinome-wide dataset was used to computationally annotate and identify the most likely protein kinases for every reported phosphorylation site in the human Ser/Thr phosphoproteome. The approach revealed unexpected insights into pathway complexity and compensation, providing a major advance linking unannotated phosphorylation events to biological pathways.
Paraphrased from the manuscript: A global atlas of substrate specificities for the human serine/threonine kinome. bioRxiv doi: https://doi.org/10.1101/2022.05.22.492882
FAQs
Where can I find more information about this series?
The e-IDG Symposium Fall 2022 Series consists of five 1-hour sessions with external and an IDG speakers covering a theme (Informatics, Kinase, GPCR, Ion Channel), on odd Tuesdays(September 20; October 4, 18; November 1, 15) at 9-10 AM PT /10-11 AM MT / 12-1 PM ET / 17-18 UK. Additional information about this e-IDG Symposium Fall 2022 Series can be found on DruggableGenome.net.
When do I receive the webinar information for this event?
In the confirmation email for your registration you will find the Zoom webinar information.
How can I contact the organizer with any questions?
Please contact organizer: idg.rdoc [at] gmail.com