E-Expert Seminar in Translation and Language Teaching (3rd edition)
E-Expert Seminar in Translation and Language Teaching: Mediation and Cultural Understanding in the Language Classroom
About this event
E-EXPERT SEMINAR: MEDIATION AND CULTURAL UNDERSTANDING IN THE LANGUAGE CLASSROOM (3rd edition)
(ONLINE EVENT. Free live broadcast from University College London's School of European Languages, Culture and Society, Gower Street, WC1E 6BT London, UK.)
Date and time of event: Wednesday 4th December 2019, 1 .45 – 6.30 pm (UK time)
The University of Córdoba, Spain, and University College of London, UK, are proud to announce their 3rd E-Expert Seminar in Translation and Language Teaching on Mediation and Cultural Understanding in the Language Classroom.
This third virtual expert seminar aims to create a shared space for reflection on topics related to translation and language teaching. The conference will be held in English and Spanish using a real-time web conferencing tool.
A team of experts will be presenting their research on language learning and translation, with an emphasis on real experiences in the foreign-language classroom to propose ways forward. On this occasion, the research seminar will revolve around the ever-increasing importance of mediation and cultural understanding in the language classroom. Attendants will be allowed to ask questions and provide points of discussion throughout the duration of the online seminar.
Upon registration through Eventbrite, you will be sent access instructions, including the link to attend the seminar, as the date approaches. No software installation will be necessary to attend this online event.
The programme for this e-expert seminar may be found here: http://www.uco.es/servicios/ucopress/images/ocs/exsetrans/Programa_E_Seminar_3rd_Edition.pdf
Further info: https://bit.ly/2pOpszh.
Contact us: a.bolanos@ucl.ac.uk | m.oaknin@ucl.ac.uk | m.navarrete@ucl.ac.uk
REGISTER TO ATTEND ONLINE.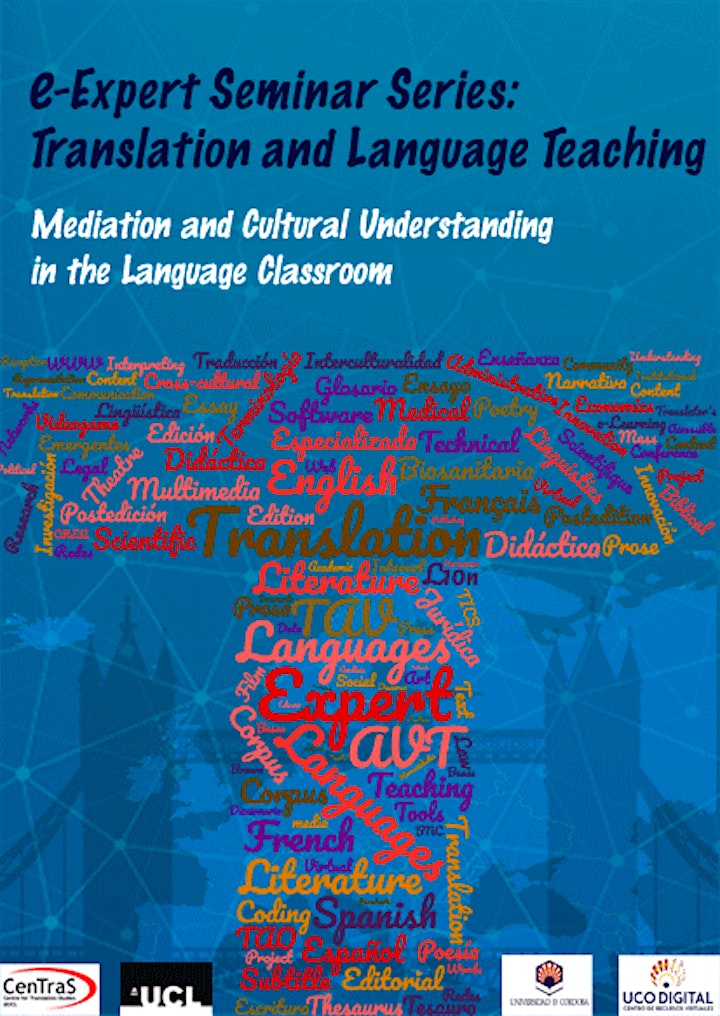 Organizer of E-Expert Seminar in Translation and Language Teaching (3rd edition)