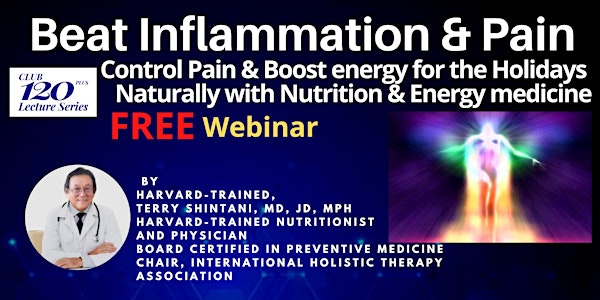 (e) Control Inflammation & Pain, Mon., Nov.21, 7pm Hawaii-time
Webinar. Introducing the Energy Enhancement System. Please scroll down - more information below.
About this event
Beat Inflammation & Pain Control Pain & Boost Energy for the Holidays-
Naturally with Nutrition & Energy medicine
Date: Monday, November 21
Time: 7 pm
Register FREE at www.MediNetics.com
Learn:
-5 steps to controlling pain Naturally
- The worst foods for inflammation
- How to boost your energy naturally
- The biggest mistake people make in pain control
- How Energy Fields can help control pain, and more
Presented by Terry Shintani, MD
(LINK to this webinar will be emailed to people who register by Sunday night, Nov.20. If you register AFTER Sun. night Nov.20 (Hawaii-time), it may be too late to get the LINK. Link to this webinar is emailed through Eventbrite. Because this is a mass emailing, your internet provider may see it as spam. Please check your spam box. It may be blocked entirely & not even in your spam box if you have hotmail.com, yahoo.com, hawaiiantel.net, or hawaii.rr.com) Some cell phones are not able to register on this site. You may need a computer to register for this event.
Dr. Sandra Michael, creator of the Energy Enhancement System, (EESystem) will be answering question at the end of a Free WEBINAR on the System.
 Topic: EES Introductory WEBINAR
Nov.21, Monday, 7pm - 9pm Hawaii-time
After traveling to many countries, she has seen results of this new technology on a number of difficult to treat conditions.  She will answer your questions on the EES and how it may work on:
Reversing Aging
Back Pain
Memory Loss
Arthritis
Injury Recovery
Chronic Pain
Fibromyalgia
Seizure Disorder
Blood Disorders
Detoxification
Diabetic Neuropathy 
Addictive Behaviors
Chronic Fatigue
And more
Terry Shintani, MD, JD, MPH, Health Innovator, creator of 'The Hawaii Diet', & founder of 'The Hawaii Health Foundation', has the EESystem now installed at  the new Kukui Plaza Mall location. 
Call 808-628-8784  for more info & to Participate in the Future of Medicine!