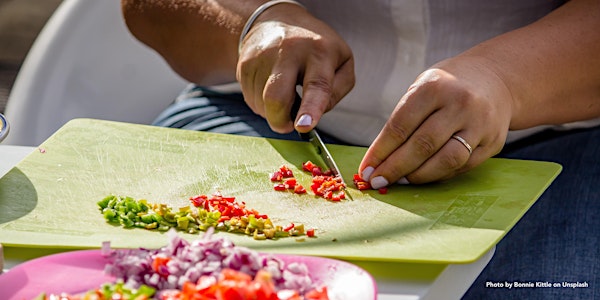 E-Conference: The Latest Evidence on Nutrition-Sensitive Agriculture
When and where
Location
Online! You can join our virtual conference from any location with an internet connection.
Description
Nutrition-sensitive agriculture offers great potential for Sustainable Development Goal 2 (SDG 2: Zero Hunger) as it connects agricultural development to improved nutrition outcomes. Examples of nutrition-sensitive agriculture interventions are bio-fortification, home vegetable gardens, and small animal rearing (Ruel et al. 2018).
Since many nutrition-sensitive agriculture interventions have been applied in recent years, we aim to:
Take stock of what we have learned so far about nutrition-sensitive agriculture, i.e. what works and what does not work, and under what conditions?

Share and discuss this knowledge with practitioners in the field (e.g. farmers, extension workers, NGOs and policy makers)

Turn the evidence base into concrete recommendations for practitioners to implement effective nutrition-sensitive interventions in agricultural development
Register today to join this free online conference. Subscribing allows you to participate in the daily live sessions with our experts and access the online community to discuss insights, exchange project results, ask questions and discuss challenges with colleagues from around the world.
Programme
Sessions are from
09:00 - 11:00 New York
15:00 - 17:00 Paris
21:00 - 23:00 Beijing
Click here for help converting to additional time zones ("add another city")
Monday 3 June, 13:00 GMT: Smallholder production and Dietary Diversity
Matin Qaim of the University of Göttingen will discuss the linkages between smallholder on-farm production diversity and impacts on dietary diversity, as well as the impacts of specialization of cash crops on consumption benefits.
Tuesday 4 June, 13:00 GMT: Market Challenges and Solutions to Nutritious Food Access
Harold Alderman of IFPRI will discuss the linkages between markets, diets and nutrition with a particular focus on affordability and access of nutritious foods in low- and middle-income contexts, the challenges and potential market-based solutions.
Wednesday 5 June, 13:00 GMT: Women's Empowerment for Better Nutrition
Agnes Quisumbing of IFPRI will discuss women's empowerment as well as ownership and control of assets, and its impacts on child and women's nutritional status and overall household food security.
Speaker Biographies
Jessica Fanzo (moderator) is the Bloomberg Distinguished Associate Professor of Global Food & Agricultural Policy and Ethics at the Nitze School of Advanced International Studies (SAIS), the Berman Institute of Bioethics, and the Department of International Health of the Bloomberg School of Public Health at Johns Hopkins University. She also serves as the Director of the Global Food Ethics and Policy Program at Hopkins, and plays key advisory roles in Johns Hopkins' Alliance for a Healthier World on the food security and nutrition theme, as well as the Bloomberg American Health Initiative on obesity and food systems. She is currently serving as the co-Chair for the Global Nutrition Report, and is the Team Leader for the High-Level Panel of Experts for Food Systems and Nutrition for the UN Committee on Food Security. She also serves on the Lancet Commission on Healthy Diets for Sustainable Food Systems.
Harold Alderman, with both a master's degree in nutrition (Cornell) and a Ph.D. in economics (Harvard), has naturally gravitated to research on the economics of nutrition and food policy. He spent 10 years at the IFPRI prior to joining the World Bank in 1991. He rejoined IFPRI in 2012. While at the World Bank, he divided his time between the Development Research Group and the Africa region where he advised on social protection policy.
His current research has focused on the linkages between nutrition and early child development and the means by which nutrition and social protection programs contribute to long term economic growth.
Matin Qaim is Professor of International Food Economics and Rural Development at the University of Goettingen, Germany. Before, he had research and teaching positions at the Universities of Hohenheim, Bonn, Kiel, and California at Berkeley. He holds a doctoral degree in agricultural economics from the University of Bonn. His main research areas relate to the economics of food security, malnutrition, sustainable food systems, and smallholder agriculture. He has research and project experience in numerous countries across Africa, Asia, and Latin America. Qaim has over 200 academic publications, most of them in top disciplinary and interdisciplinary journals. His research results have been featured in large newspapers, including the New York Times, The Economist, Newsweek and many others. Qaim has received different academic prizes. He is member of the German National Academy of Sciences and was recently recognized as Fellow of the American Agricultural and Applied Economics Association (AAEA). He serves on several high-level scientific and policy advisory committees, is a member of the Board of the International Association of Agricultural Economists (IAAE), and has also served on the Boards of different international organizations, including CIMMYT and Africa Harvest.
Agnes Quisumbing is a Senior Research Fellow at the International Food Policy Research Institute, Washington DC, and leads the cross-cutting research theme on gender. She received her Ph.D. and M.A. in economics from the University of the Philippines, Quezon City, was a Fulbright-Hays Fellow at the Massachusetts Institute of Technology, a Visiting Fellow at the Economic Growth Center, Yale University, and an economist at the World Bank. She has published widely on gender, intrahousehold allocation, property rights, poverty, and economic mobility, and has done field work in Bangladesh, Ethiopia, Ghana, Indonesia, and the Philippines. She is undertaking impact evaluations of nutrition-sensitive agricultural development programs in South Asia and Sub-Saharan Africa, focusing on their impacts on women's empowerment and gender asset inequality. She is co-developer of the Women's Empowerment in Agriculture Index (WEAI) and is co-editor of Gender in agriculture and food security: Closing the knowledge gap.