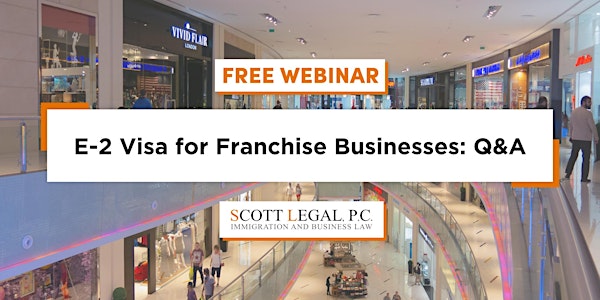 E-2 Visa for Franchise Businesses: Q&A
Covering the key Q&A related to both E-2 visa and setting up a Franchise that can be eligible for an E-2 visa.
About this event
A Franchise can be an excellent option for an E-2 visa. This webinar will go over some key questions and answers related to both the E-2 visa and setting up a Franchise that can be eligible for an E-2 visa. The webinar will also deal with some considerations associated with buying a Franchise. Adam Goldman is a Franchise consultant who has helped numerous clients navigate the franchise world. He will be joined by Ian Scott who has processed hundreds of E-2 visas.
Speakers:
Ian E. Scott · Esq., M.B.A., C.P.A.
Ian E. Scott is the founder and president of Scott Legal, P.C. He received a Juris Doctor degree from Harvard Law School, where he was a Primary Editor on the Harvard Human Rights Journal. He received both an undergraduate degree and a Masters in Business Administration (M.B.A) degree from the University of Toronto, where he was an Ontario Graduate Scholar.
Mr. Scott has been a member of a number of professional organizations, including the American Bar Association, the New York State Bar Association, the New York City Bar Association, the American Immigration Lawyers Association (AILA) and the Canadian Institute of Chartered Accountants.
Mr. Scott founded Scott Legal, P.C. on an E-2 visa and has held numerous non-immigrant visas while in the U.S., including E-2, TN, H-1B, B-1, and F-1 visas.
See More: Click Here

Adam Goldman
I am a franchise consultant who is an experienced investor, serial entrepreneur, franchisee, and Master Franchisor.
Over my 20 year career as a business investor and franchise consultant, I have founded three successful companies on two continents. These include an IT company in Poland and a real estate investment company in Texas. Most recently, I have grown the Vanguard Cleaning Area Developer concept in Houston into a multi million dollar a year enterprise with over 30 franchisees and 300 customers which I recently sold.
See More: Click Here