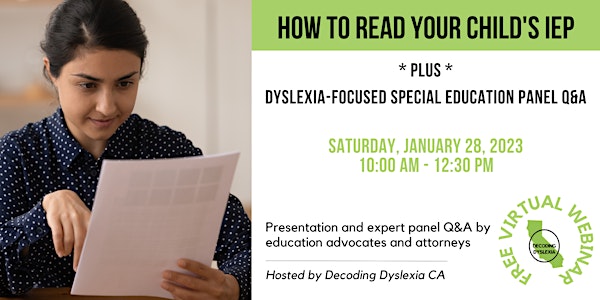 Dyslexia-Focused Special Education Webinar (Free)
Have you ever felt overwhelmed by a student's IEP documents? Join us for a free presentation and Q&A by education advocates and attorneys.
About this event
Attention: California Parents, Caregivers and Educators
Have you ever felt overwhelmed by the special education process?
Are you interested in learning how to understand your child's IEP to ensure it is appropriate for their individual needs?
Please join us for a free virtual presentation by an education advocate from the Disability Rights Education & Defense Fund (DREDF) followed by a Q&A session with an expert panel comprised of special education attorneys and advocates regarding serving students with dyslexia in special education in California.
The dyslexia-focused presentation will include a detailed walk-through of important sections of an Individual Education Program (IEP) document. This critical legal roadmap serves many purposes in meeting the needs of students in special education. The presentation will also touch on students with Section 504 plans.
Following the presentation, there will be a dyslexia-focused panelist Q&A with expert special education attorneys and advocates. This portion of the webinar will cover commonly asked questions regarding special education students with dyslexia under California law. There will be an opportunity for webinar participants to submit questions to the panelists (note that all answers provided should not be considered legal advice).
During the webinar, Decoding Dyslexia CA (DDCA) will provide information of some of their favorite special education resources for parents, caregivers and educators.
If you are interested in attending this webinar, please note the following:
This webinar is intended for California residents only as some of the specifics regarding California special education law will not apply to out-of-state residents.
The presentation portion of the webinar will be recorded and shared with registered participants after the event; however, the panelist Q&A portion will only be available to live participants and will not be recorded.
Closed captioning will be included in the webinar, but if you have any other accessibility accommodations that may be needed, please reach out to DDCA via email at decodingdyslexiacainfo@gmail.com with your request no later than Friday, January 20 and we will do our best to accommodate.
Free Eventbrite registration in Spanish: https://www.eventbrite.com/e/seminario-web-de-educacion-especial-enfoque-en-dislexia-gratuito-tickets-514265992427
If you have any questions regarding this event, please contact DDCA via email at decodingdyslexiacainfo@gmail.com.