Description
This presentation will be directed towards parents; however, educators are strongly encouraged to attend as well so that they can learn how to advise parents of children with dyslexia.
In this presentation, Dr. Sayeski will provide tips and strategies for parents of children with dyslexia. Specifically, she will provide information about how to talk to kids about their dyslexia and strategies for dealing with kids' frustrations. She will review common challenges that arise in the home as a result of learning and attention issues and provide a menu of approaches parents can use to address these challenges. Sayeski will provide basic facts about dyslexia assessments and understanding psychoeducational reports. Finally, Dr. Sayeski will provide guidelines for talking to teachers about dyslexia and tips for asking questions, learning about instruction, and developing meaningful, productive partnerships.

This DNF / IDA-GA / DDGA Outreach Event is free and open to the public. Check-in will begin at 6:45 p.m. Program will start at 7:00 p.m. Please let others know about this event.
Presenter Information:
Dr. Sayeski is an associate professor in the Department of Communication Sciences and Special Education at the University of Georgia (UGA). Dr. Sayeski received her doctorate in special education from the University of Virginia in 2000. Prior to joining the faculty at UGA, Dr. Sayeski held appointments at the University of Nevada, Las Vegas, the University of Virginia, and Vanderbilt University. Her professional and research interests include identifying exemplary practices related to teacher development and determining effective instructional practices for students with high-incidence disabilities, particularly in the area of reading instruction and intervention. Dr. Sayeski serves as the editor of TEACHING Exceptional Children, the Council for Exceptional Children's premier research-to-practice journal. Dr. Sayeski's work has been published in research and practitioner journals including Annals of Dyslexia, Exceptionality, Teacher Education and Special Education, and Intervention in School and Clinic.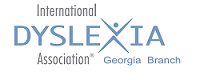 This event is brought to you by Dyslexia Network of Forsyth, Decoding Dyslexia-GA, and the International Dyslexia Association - GA. Outreach events are free and open to the public.
Dyslexia Network of Forsyth (DNF) provides resources and support to parents and educators of students with reading, writing and spelling difficulties in and around Forsyth County. Visit www.dyslexiaforsyth.com.
Decoding Dyslexia GA is part of a network of parent-led grassroots movements across the country concerned with the limited access to educational interventions for dyslexia within the public education system. Visit www.decodingdyslexiaga.com.
International Dyslexia Association - Georgia Branch (IDA-GA) is a non-profit, scientific, and educational organization formed to increase public awareness of dyslexia. IDA-GA is a resource and support system for parents, individuals with dyslexia, educators, therapists, psychologists, and other professionals. Visit http://ga.dyslexiaida.org.