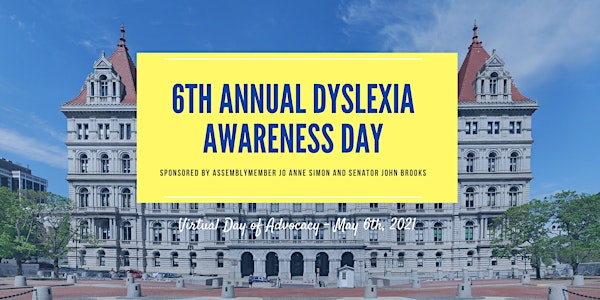 Dyslexia Awareness Day: May 6, 2021
Join Assemblymember Jo Anne Simon and Senator John Brooks for the 6th Annual Dyslexia Awareness Day! Thursday, May 6th, 2021.
About this event
Sponsored by: Assemblymembers Jo Anne Simon, Robert Carroll, Harvey Epstein; Senators John Brooks, Brad Hoylman, Robert Jackson, and Zellnor Myrie!
Keynote address by Jerry Pinkney and Gloria Pinkney.
Dyslexia Awareness Day is an important component in building the support structure for the dyslexic community, as well as achieving our goal of passing legislation necessary to level the playing field. Educators and advocates will share strategies, experiences, and advice.
Allies include dedicated parent-activists, students, advocates, educators, and legislators from throughout New York State.
Be part of the conversation!
+++++++++
Workshops:
School to Prison Pipeline, Institutional Racism & Reading
Challenges of Implementing Best Practices in Schools
Telling Your Story to Others, including Elected Officials
+++++++++
Share your story and advocate for dyslexia bills:
A2062 Simon / S00307 Myrie -- Requires a reading level assessment and dyslexia screening for certain incarcerated individuals
A2283 Simon / S01293 Brooks -- Requires school districts to conduct mandatory early screening for dyslexia for all children
A2217 Simon / S1376 Brooks -- Ensures that all required literacy classes for teachers include the structured multisensory approach
A0556 Carroll / S1926 Jackson -- Establishes interventions for children with dyslexia or other phonological learning differences or disabilities
A2185 Carroll / S0441 Hoylman -- Establishes a dyslexia task force and implementing the findings of such task force
+++++++++
If you would like to share a dyslexia-related resource with our office, please email us at belloe@nyassembly.gov
Looking forward to seeing you!