Sales Have Ended
Registrations are closed
If you are interested in partnering with Decoding Dyslexia Maryland for this event, please contact Laura Schultz at 703-477-4847. Thank you!
Sales Have Ended
Registrations are closed
If you are interested in partnering with Decoding Dyslexia Maryland for this event, please contact Laura Schultz at 703-477-4847. Thank you!
Description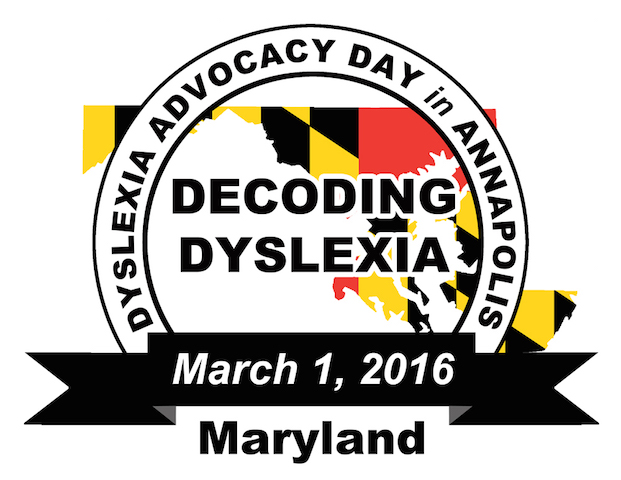 Please join Decoding Dyslexia Maryland in Room 170, Lowe House Office Building, 6 Bladen Street in Annapolis to raise awareness and educate legislators about dyslexia and its impact on families, students, teachers and education in Maryland. DD-MD and our Community Partners, encourage you to reach out to your local Delegates and Senators to schedule appointments.

REMINDERS:

Wear RED: Red symbolizes turning the negative impacts of red ink on spelling and writing assignments into the positive energy of advocacy.

Make appointments with your legislators in advance (scroll down for instructions)

Write your story and send it with photos to DecodingDyslexiaMD@gmail.com:

Examples

Plan out your parking (scroll down for more information)
Many legislators are unaware of the impact of dyslexia and reading difficulties on Maryland students and these meetings help raise awareness. If you would like someone from Decoding Dyslexia to attend your meetings, please email DecodingDyslexiaMD@gmail.com.
---
---


SCHEDULE & PROGRAM
8:00-9:00am Networking, Community Sponsor Information & Continental Breakfast
Between 8:00am-8:30am: Delegate Deb Rey: Delegate, St. Mary's County & Sponsor: Welcome
9:00-9:20am Lisa Blottenberger: Decoding Dyslexia Maryland: How to Close the Reading Gap for struggling readers and students with dyslexia. Presentation will include: What is dyslexia/reading disability, who is affected, and the elements of effective reading instruction.
9:20-9:25 am: Student Dyslexia Poem: Mia Hembling
9:30-9:45 am: Keynote: Elisabeth Liptak: Director: Center for Effective Reading Instruction, CERI: How Schools of Higher Education Can Change Reading Outcomes for Struggling Learners
9:45-10:00 am: Dr. Joan Mele-McCarthy: Chair, Maryland Dyslexia Task Force to Create a Dyslexia Pilot Program and Head of School, The Summit School, Annapolis, Maryland. Dyslexia Task Force History & Summary
10:00-10:15 am: Betty Weller, President, Maryland State Education Association (MSEA): How the Task Force Recommendations will Help Teachers, Schools and Students
10:10-10:25 am: Marcella Franczkowski: Assistant State Superintendent, Special Education & Early Intervention Services, MSDE: Dyslexia, Dysgraphia and Dyscalculia Guidance: What Does it Mean for Maryland?
10:25-11:00: Laura Schultz, Decoding Dyslexia Maryland: Advocacy 101 -- Laying the Groundwork to Close the Reading Gap
LEGISLATOR Presentations -- between 9-12 (subject to legislative schedules)
---
---
PRE-SCHEDULED LEGISLATOR MEETINGS
11:00-3:00 -- Meet with your legislators (appointments made in advance) OR drop by their offices to sign the guest book, take a photo if available, and leave behind a packet of information on dyslexia. Room will be available for a networking hub until 3pm.
*Food and beverages will be provided thanks to our Community Partners.
**Students are welcomed to attend meetings -- they are their own best advocates!
---
---
LEGISLATOR MEETING INFORMATION -- SCHEDULED BY YOU!
All meetings must be scheduled in advance of March 1st to ensure that legislators have you or your group on their schedule. If you would like someone to attend a meeting/s with you, please email DecodingDyslexiaMD@gmail.com.
Remember, your legislators want to hear from you -- they are elected to hear your concerns and take action when warranted. The program from 10:30-11:00 will review the meeting process and each attendee will receive a packet of information with tips and a leave behinds for each legislator.
Letter/Email to Request an Appointment with your Legislator(downloadable)
WHO IS MY LEGISLATOR? -- Click upper right-hand corner box after clicking this link!
---
---


IF YOU CANNOT ATTEND
Please email DD-MD and we will deliver an information packet to your legislator. Be sure to include your mailing address, name and email so we can leave the contact information behind as well. It is customary to "drop-by" and leave information for elected officials. DecodingDyslexiaMD@gmail.com
---
---
PARKING & SECURITY
Public Buildings Map and Parking Options -- If you park at the Navy-Marine Corps Stadium to take the shuttle, the cost is $4 round trip and $5 to access the parking lot at the stadium. The shuttle requires exact change in cash. Leave at least 30 minutes to park, catch the trolley and ride to Lowe House Office Building. There are also a number of parking garages within walking distance to the Lowe House Office Building and Gott's Parking Garage is the closest on Taylor Avenue.

All attendees must pass through building security and should allow about 10 minutes (or more) depending on the line to get in the building. Please have a photo identification ready. The entrance to Lowe House Office Building is on the side of the building on Bladen Street, middle door and there is no parking on Bladen Street.

MAP
---
---
Things to Do
---
---
COMMUNITY PARTNER SPONSORS, 2016
Please visit our Community Sponsor tables from 8-9am and throughout the day to learn more about their organizations, training opportunities, schools, services, and workshops. THANK YOU for your support.
To access Partner websites, click here: COMMUNITY PARTNER WEBSITE LINKS