Description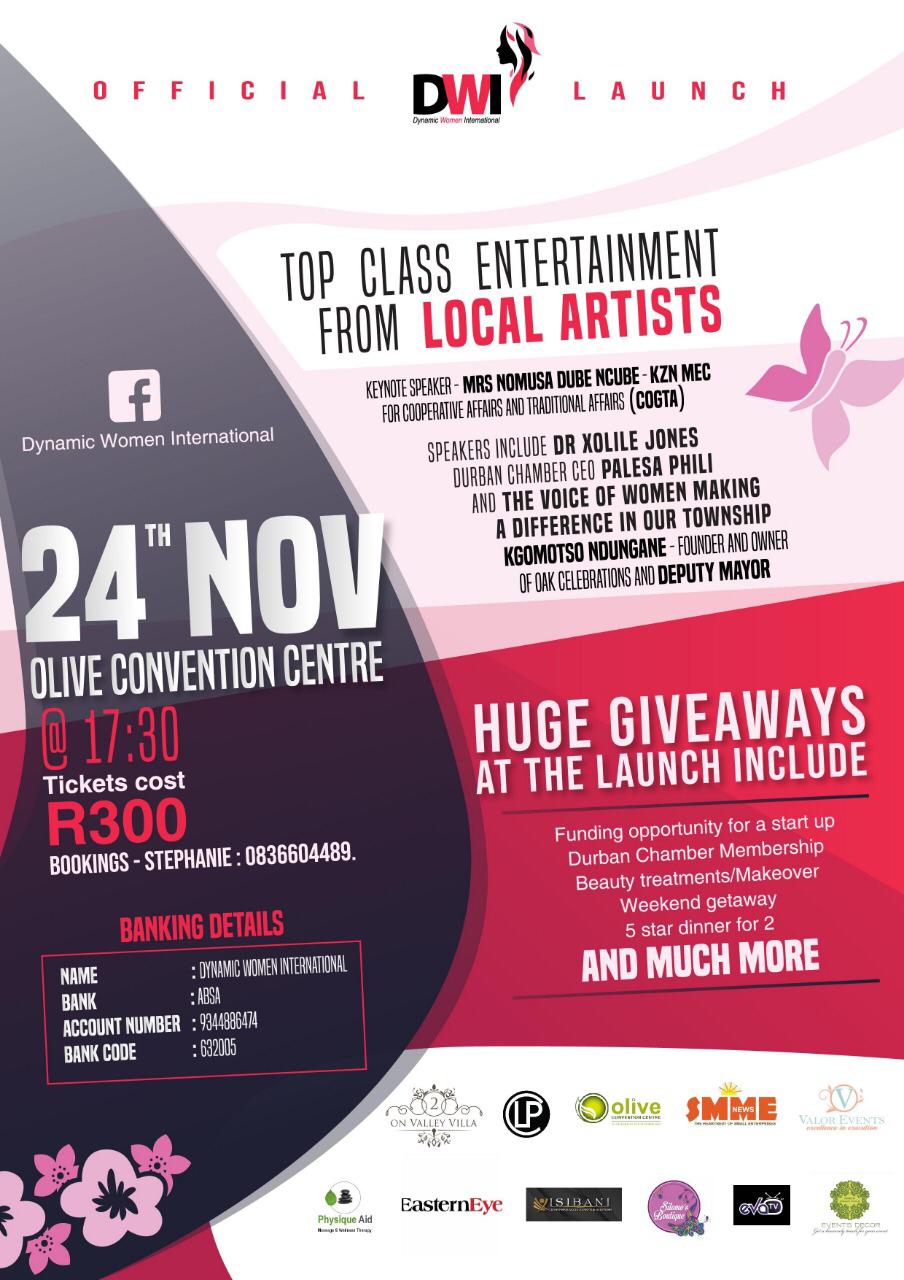 Join us at the Dynamic Women International (DWI) Official Launch on the 24th of November 2018!
This is an ideal opportunity to become a valued member of the Association and network with other business women. It seeks to offer aspiring and existing entrepreneurs and women in business, the platform to grow their business through powerful networking, events and training.
Rewarding and recognizing female contribution to society and business achievements across a wide variety of industries, this event will launch the DWI movement.
Speakers include:
1. Dr Xolile Jones,
2. Durban Chamber CEO Palesa Philip and,
3. The voice of women making a difference in our township.
Huge giveaways at the launch event include:
1. Funding opportunity for a start up (Applicants must be present at the event and send a strong motivation to Stephanie as to why they should be considered).
2. A Weekend getaway
3. A 5 star dinner for 2
4. Durban Chamber of Commerce and Industry SMME Membership
5. Beauty Treatments/Makeover
AND MANY MORE!!!
This event will take place at The Olive Convention Centre in Durban, a state of the art venue in beautiful urban seaside surroundings. A lovely 3 course dinner will be served and there will be free parking onsite.
Expect exceptional top class entertainment from local artists and a one of a kind women's event that will definitely leave a mark in your 2018 calendar!
Both Women and Men are urged to book early and the entrance fee is R300pp. Please bring business cards with you as this is also an ideal networking opportunity.
Bank details for tickets: ABSA 9344886474
For enquiries and more details: Contact Stephanie Cloete on 0836604489 OR Judy Ndima on +27658356726