Dynamic Marketing for Social Enterprise: A verynice Webinar with Matthew Manos

Wednesday, July 11, 2012 from 1:00 PM to 2:00 PM (CDT)
Event Details
Social Enterprise Alliance Presents:
Dynamic Marketing for Social Enterprise: A verynice Webinar with Matthew Manos
We all know that storytelling is integral to modern marketing, but too often it's a one-way avenue: You use a megaphone to tell your uplifting tale of human triumph, your stakeholders get reasonably excited, and maybe they even do something nice, like buy your product or make a donation. Then they forget about you until you're shouting in their ears again.
What if you could leverage those same stakeholders to tell your story with you? Imagine a self-sustaining community of champions who can trumpet your good work to their friends and colleagues, and get them to do the same. Wouldn't that be a more powerful, authentic kind of storytelling?
Join Matthew Manos, founder of global design firm verynice, for our July webinar: Dynamic Marketing for Social Enterprise. In this fast-paced session, you'll learn how to:
Turn an audience of passive listeners into engaged talkers through Dynamic Storytelling
Refine your marketing strategy based on what your stakeholders are saying through Flexible Branding
Avoid the Perils of Crowdsourcing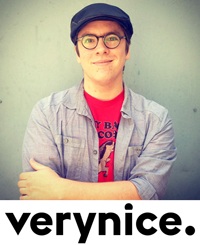 Matthew Manos is a 23 year old social entrepreneur who is dedicated to disrupting the way the design industry operates. Matthew began his freelance career at the age of 16 (2005), which is the same year he took on his first pro-bono client. Four years later, he founded verynice (2009), a global design, business, and innovation consultancy that dedicates over 50% of its efforts toward free design services for non-profit organizations. Matthew has helped build over 250 brands in every sector and industry across the globe, and his studio works with a diverse clientele that range from Fortune 500 companies to small local shops. As of 2012, verynice has also provided over $300,000 worth of pro-bono design and consulting services in 6 continents to 125+ clients thanks to our team of 90+ international volunteers. Clients include The United Nations, MTV Networks, Facebook, Toyota, Disney, and Human Rights Campaign.
Matthew's work and ideas have been published in 100+ print and online venues internationally including The Huffington Post, GOOD, HOW, and Wired Magazine. He is also a contributing writer for Social Earth and Beautiful/Decay Magazine. Matthew speaks regularly at events and institutions across the United States including TEDx, Social Enterprise Alliance, UCLA, WKU, and Pepperdine University. Matthew's current research investigates the cultural relevance of "pro-bono," business as a medium for critical inquiry, and the development of systems that facilitate radical approaches to entrepreneurship. Representative of his passion for connecting the fields of design and business, in the summer of 2012, Matthew pioneered the first class on entrepreneurship in the UCLA School of Arts and Architecture. He holds a BA in Design Media Arts from UCLA (2010), and an MFA in Media Design from the Art Center College of Design (2012).
Organizer
Social Enterprise Alliance
Since its inception as The National Gathering for Social Entrepreneurs in 1998, the Social Enterprise Alliance (SEA) has been the champion and key catalyst for the development of the social enterprise sector in the United States. Our vision is for social enterprise to reach its potential as a force for more effective and sustainable social impact. We empower social enterprises with the tools and resources they need to succeed, and work to foster a social enterprise ecosystem in which they can thrive.