Description
Power Events are excited to bring you our Paranormal & Movie night at The Crime Museum Hastings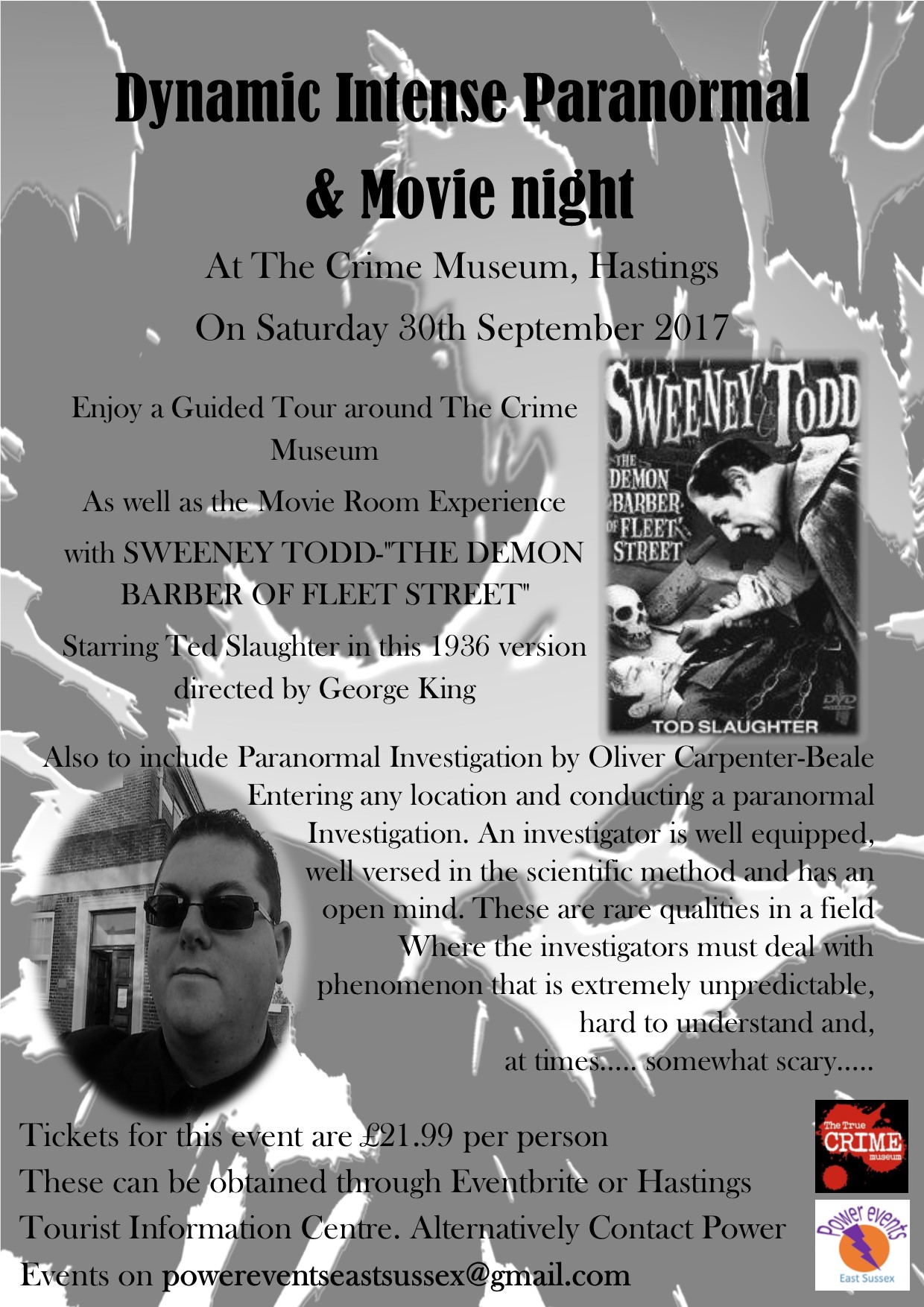 This is not for the faint hearted...............
The Evening will start at 6.00pm sharp
complimentary soft drink on arriving to the Crime Museum
We will be seating guests in the Cinema Room of
the Museum
Our movie to be shown 6.30pm sharp
PART ONE
SWEENEY TODD-"THE DEMON BARBER OF FLEET STREET"
Starring Ted Slaughter in this 1936 version directed by George King
PART TWO
You will be escourted round the Museum to see the many attractions
See a GENUINE lethal injection deathbed. The noose that hanged two men at Lincoln Prison.
- THE WOLFMAN OF LONDON, Michele De Lupo. SEE the chilling painting he sent to one of his 4000 lovers.
Takes you deep into the minds of the murderers...Fred West...Dahmer...The Dating Game Killer...Dennis Nilsen...The Night Stalker... Hear them all in our surround sound cinema.
Serial Killers
Death Chamber cave
- Ripper Alley
PART THREE
We then undertake our Paranormal evening introduced by Oliver Carpenter-Beale SRG Paranormal Investigator
for the evening
Entering any location and conducting a paranormal investigation, an investigator is well equipped, well versed in the scientific method and has an open mind. These are rare qualities in a field where the investigators must deal with phenomenon that is extremely unpredictable, hard to understand and, at times, somewhat scary. Paranormal investigation, more than any other field of scientific research, demands excellent troubleshooting skills, excellent critical thinking skills and superior techniques using sensitive equipment..........................


We have a limited amount of tickets for the event and can not be purchased on the door
Our special introducion offer is £21.99


Film Introduction is as follows
Sweeney Todd (Tod Slaughter) is a barber with a shop near the docks of London.
Using his charm and tonsorial skills, Todd lures wealthy, respectable customers into his barber-shop at Fleet Street, where he settles them into a mechanical barber's chair which dumps them head-first down into the basement, ready to have their throats cut with a straight-edge, razor-sharp blade—if the fall does not kill them first.