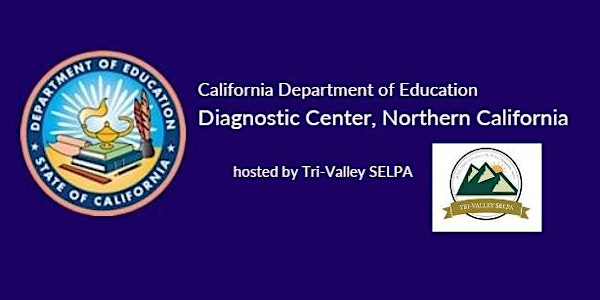 Dynamic Assessment: A Guide for Speech-Language Pathologists
Dynamic Assessment: A Guide for Speech-Language Pathologists
About this event
Training facilitated by Diagnostic Center, Northern California
Hosted by Tri-Valley SELPA
Zoom login details for virtual sessions will be sent to registered participants via e-mail and/or Eventbrite. You will not receive the Zoom link if you do not register and if you did not input your contact information correctly. Please carefully check your registration details prior to signing up. Please check your e-mail thoroughly for any missed e-mails from the SELPA and/or Eventbrite.
Dynamic Assessment: A Guide for Speech-Language Pathologists
When: Oct 28, 2022; 2:30 PM - 3:30 PM
Presenter: Liz Arenas, M.S., CCC-SLP-L, Speech-Language Pathologist
Intended Audience:
Speech-Language Pathologists
Dynamic assessment (DA) is often proposed as an alternative assessment approach. This training will provide participants with an in-depth look at utilizing dynamic assessment (DA) as part of your testing battery.
Participants Will:
Become familiar with the components of Dynamic Assessment (DA)
Identify the various methods considered DA
Become familiar with guidelines for designing and conducting Dynamic Assessment
Be able to use the findings to help make differential diagnoses of diverse learners