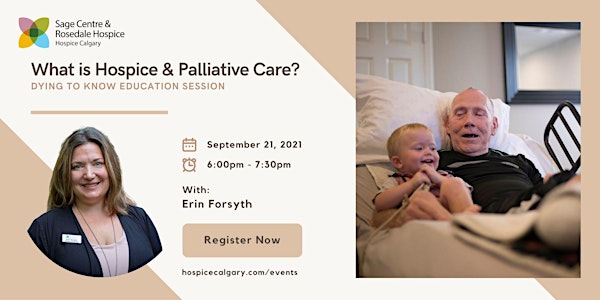 Dying to Know - What is Hospice and Palliative Care?
Dying To Know – What is Hospice and Palliative Care?
About this event
Most Canadians want to die in their home, wherever that may be. Informing ourselves of the available options can go a long way towards making plans. Erin Forsyth, Director of Clinical Care at Hospice Calgary's residential hospice Rosedale, will share information about Hospice and Palliative Care as well as how to access services and resources.
Please note, login information for Zoom will be sent to registrants closer to the event date.
If you have any questions, please contact Elaine Munce at elaine.munce@hospicecalgary.ca.
For current information on all of our education opportunities or to access additional digital resources, visit our website at Hospice Calgary.
Hospice Calgary is a not-for-profit organization. Donations in support of this program help us build capacity in our communities, and can be made on-site or online.