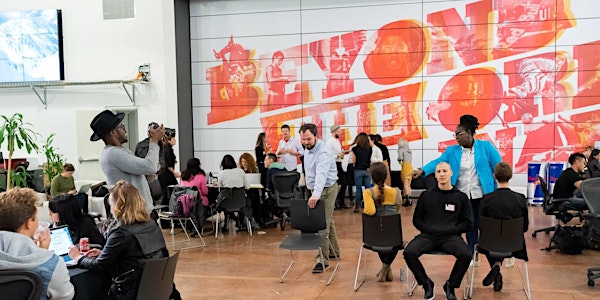 DWP 2019: Census 2020: Creatives For the Count Workshop
When and where
Location
PNCA Mediatheque 511 Northwest Broadway Portland, OR 97209
Description
Calling all creatives to strengthen democracy:make content for 2020 census!
Join #CreativesForTheCount!With an unprecedented wave of creative civic participation we're ensuring no one's left out of the count.
Are you a creative genius* who cares about ensuring everyone in our country has equal access to political representation and federal funding for their community?
We need your help to make sure all people count in the 2020 Census! Join our evening create-a-thon. We'll develop assets that nonprofits, civil society organizations, and local governments can use to better reach hard-to-count and marginalized communities.

Why The Census? Participation = Money + Power
The Decennial Census is more than just a count of people in our country. It informs how we're represented in Congress, how the federal government allocates $675 billion annually to states and communities, and how we define ourselves as a nation. But few people know this — and many populations are seriously undercounted.
Why Create for The Count?
Content that speaks to people in hard-to-count communities has a profound impact on participation in the Census, the largest civic action in the United States and the cornerstone of our democracy. Posters, memes, videos, articles, images — every single piece of content that communicates the importance and purpose of Census 2020 is critical.
Who Will Benefit in Oregon?
This create-a-thon will support "hard to count" groups in Oregon, Asian Pacific American Network of Oregon (APANO), Coalition of Communities of Color, and the regional Complete Count Committee for Multnomah, Washington, and Clackamas counties.
Led by Local Partners
We also have incredible support and partnership with Creative Mornings, PSU Graphic Design Department, Population Research Center, Pacific Northwest College of Art, Business for Better Portland, Metro, Governor Kate Brown's Office, Hacienda, and Oregon Community Foundation.
Food and beverages will be provided! Shout out to Fort George Brewery for their awesome beverages! Please bring your own laptops!
*Creative genius: includes designers, writers, storytellers, content strategists, SEO-ninjas, meme-makers, podcasters, artists, cartoonists, anyone who has taught themselves how to use Photoshop, or anyone who's already made it big in the creative world and wants to do something important for our country.