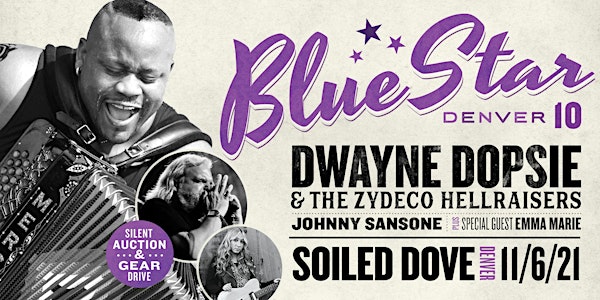 Dwayne Dopsie and the Zydeco Hellraisers
UNDER 21 WITH PARENT OR LEGAL GUARDIAN
Presented by Blue Star Connection
Blue Star Connection welcomes Dwayne Dopsie and the Zydeco Hellraisers with special guests Johnny Sansone and Emma Marie!
When and where
Location
Soiled Dove Underground 7401 E. 1st Ave Denver, CO 80230
Performers
Headliners
Dwayne Dopsie And The Zydeco Hellraisers
More Performers
About this event
Blue Star Connection celebrates its 10th Anniversary on November 6th with a special party for Blue Star Denver 10. Get ready for some great blues and put on those dancing shoes because we have two Grammy nominated artists from Louisiana that will be celebrating with us. The Blue Star Connection mission is to provide access and ownership of musical instruments for children and young adults with cancer and other serious life challenges. To date we have reached over 1000 kids and have donated musical gear to 80 Children's Hospitals and Music Therapy programs, as well as several other community programs. Please help us continue this mission by joining us for this special event that also features a silent auction and gear drive. Silent Auction and Doors open at 6pm and we will have a special performance to kick things off by one of our Blue Stars Emma Marie, followed by Johnny Sansone to get the party started and headlining is Dwayne Dopsie and the Hellraisers who will be sure to get everyone on their feet. This is a full evening of great music with a great auction, all for a great cause! To learn more about Blue Star Connection visit www.bluestarconnection.org
About Dwayne Dopsie:
Dwayne (Dopsie) Rubin hails from one of the most influential Zydeco families in the world. Although inspired by tradition, Dwayne has developed his own high energy style that defies existing stereotypes and blazes a refreshingly distinct path for 21st century Zydeco music. This singer/songwriter and accordionist has performed all over the world since debuting his band, Dwayne Dopsie and the Zydeco Hellraisers, at age 19.
As a tribute to his late father, Rockin' Dopsie, Sr., Dwayne will record an album of his Dad's greatest zydeco hits. Dwayne and the Hellraisers are currently in the studio wrapping up their 6th studio album, a follow up to Up In Flames, their second album to be pre nominated for a Grammy Award. The Louisiana native writes both the lyrics and music for his songs and describes the upcoming album as soulful with a touch of blues and old time zydeco feel.
Dwayne Dopsie, grew up in Lafayette, Louisiana, as well as four of the Hellraisers. Dwayne has created the perfect band of hand picked musicians. The washboard player, Paul Lafleur, possesses skill and timing that are unmatched, making him a true musician, not just a marvel holding a washboard. Combined, the band has over 100 years of experience playing Zydeco music and it shows in every performance. The energy, true talent, and exuberance that Dwayne Dopsie and the Zydeco Hellraisers emit from stage makes it obvious that there is no competition for this band.
Not only has Dwayne's band mastered zydeco music, they also add a bit of rhythm and blues, funk, rock and roll, reggae and pop to their performances, making them a very versatile choice for any audience. This Indie artist was named "The Hottest Accordionist" in America for his ability to both work the crowd and pump out musical harmony in grandiose fashion. Dwayne doesn't confine himself to the stage; he interacts with the crowd, blurring the barrier between performer and audience. Audiences jump to their feet energized by Dwayne's musical innovation, charismatic performance and sheer, raw talent. His ability to capture the imagination, heart and soul of his audience makes Dwayne one of today's most dynamic performers.
About Johnny Sansone:
Johnny Sansone started out early playing music. His father, a saxophonist who'd been in Dave Brubeck's band during World War II, introduced him to the saxophone at age 8. Johnny picked up the guitar and harmonica by the time he was 10 and had a life changing experience at 12 when he saw a Howlin' Wolf show in Florida. That was the moment the young Sansone knew he was destined to play the blues as his lifetime vocation. He sat in with Honeyboy Edwards at 13. During the 1970s Sansone studied with blues harmonica legends James Cotton and Jr. Wells. In the 1980s he toured with Ronnie Earl, John Lee Hooker, Jimmy Rodgers and Robert Lockwood Jr. Sansone led the life of an itinerant bluesman, traveling around the country before settling down in New Orleans in 1990.
As leader of Jumpin' Johnny & the Blues Party, Sansone played harmonica and guitar in the fierce Mississippi delta blues style heard on his 1987 debut Where Y'at? and his 1991 release Mister Good Thing. Living in New Orleans brought a swamp rock tinge to his gruff vocals and emotional playing style, and after attending a wake for Zydeco pioneer Clifton Chenier Sansone started playing accordion as well. By the time of 1996's Crescent City Moon, Sansone had developed into a full-fledged Louisiana artist, combining blues, boogie and the front porch Cajun and Zydeco sounds of the Louisiana bayou country. At the beginning of 2005 Sansone joined the Voice of the Wetlands Allstars, a group of Louisiana bandleaders who wanted to draw attention to the disappearing wetlands and the destruction of the Louisiana coastline. It was here he met Anders Osborne who produced Sansone's next album, the 2007 release Poor Man's Paradise. Sansone reached a new level of songwriting skills on this record, and the title track became a staple of the Voice of the Wetlands live performances.
In 2009 Sansone formed an acoustic trio with Osborne and guitarist John Fohl. This was a time of creative breakthroughs for Sansone, who wrote the breathtaking blues "The Lord Is Waiting and the Devil is Too". That song became the title track of his next album, another Osborne-produced venture. To this day it's hard for Sansone to get through a gig without a fan calling out for "that Devil song!" "The Lord Is Waiting and the Devil is Too" was named Song of the Year at the Blues Music Awards. Sansone continued to pen his unique brand of Louisiana story songs on his next album, Once It Gets Started. His latest release, Lady On the Levee, is Sansone's most personal album.
Johnny's newest recording, HOPELAND, was produced by Anders Osborne, and features the North Mississippi Allstars. Offbeat Magazine's review of HOPELAND praises Johnny for his instrumental prowess, particularly on harmonica and accordion, as well as his songwriting and bandleader talent. HOPELAND was the top selling record at Louisiana Music Factory during 2018 New Orleans Jazz & Heritage Festival.
About Emma Marie
Emma Marie is a 17-year old singer songwriter from Northern Colorado. She is petite in stature, but the power of her voice conveys her passion for music. Emma Marie's love of singing began as a toddler. Her songwriting journey began when she started guitar lessons. She quickly turned new chords into a melody for her first song at age nine. In the summer of 2014, she performed her first two original songs to win a singing competition called "Big Country's Got Talent" at Cheyenne Frontier Days. Her musical journey was underway!
Through her ties with Blue Star Connection, she has the privilege of bringing music to the lives of children and young adults with challenges and life threatening illnesses. She was awarded "Performer of the Year" for 2016 at Blue Star Connection's yearly benefit event.