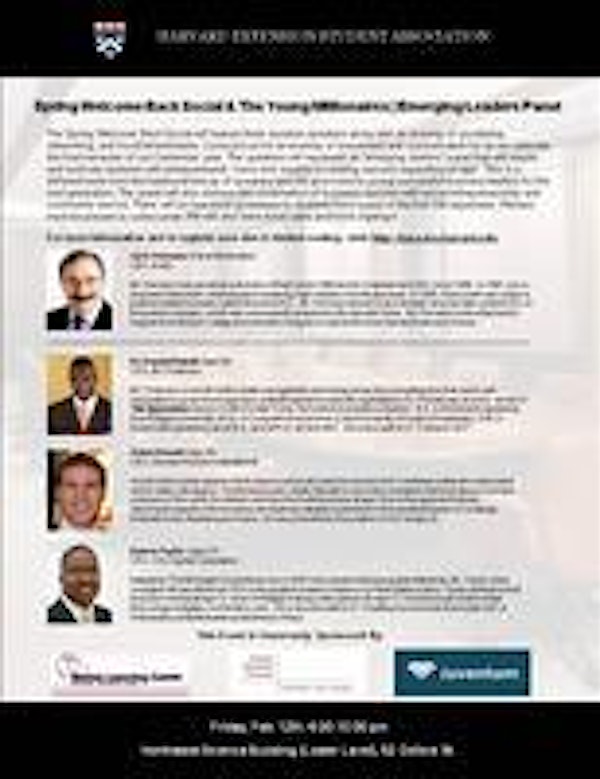 DVD Orders | 2010 Emerging Leaders Forum | Young Millionaire CEOs
By Service & Leadership Society
Date and time
Friday, July 11, 2014 · 1 - 4pm EDT
Description
Young Millionare CEOs | Emerging Leaders Forum
This event represents an "emerging leaders" panel that will inspire and motivate you with entrepreneurial vision and insights in creating success regardless of age. This is a different twist from the traditional line-up of speakers and gives voice to young successful business leaders for the next generation. The panel also addresses the combination of business success with social entrepreneurship and community service. This is an all-encompassing presentation for those wanting to start a business or a non-profit, for those wanting to rise to the top of the corporate ladder, or for those wanting to simply follow and achieve their dream. The speakers include:

* Dr. Randal Pinkett (age 38), CEO of BCT Partners, a multi-million dollar management, technology and policy consulting firm that works with corporations, government agencies, philanthropic and nonprofit organizations. Dr. Pinkett is also the author of Campus CEO, the highly acclaimed book that shows students how to be successful entrepreneurs before they leave college. Dr. Pinkett is also the winner of NBC's Apprentice Season 4 with Donald Trump. He has overseen and managed a $100 million dollar real estate construction project for the Trump organization. Dr. Pinkett has also done a considerable amount of work on behalf of under-served communities, low-income communities, and communities of color. He is a spokesperson for Autism Speaks, the New Jersey Reads and Junior Achievement of New York. He is a holder of 5 academic degrees – BA from Rutgers, MS from Oxford University (Rhodes Scholar), MS from MIT, MBA from Sloan-MIT, and PhD from MIT.

* Ephren Taylor (age 27) is currently the CEO of two publicly traded companies, one of which, City Capital Corporation, is recognized by the Wall Street Journal as one of the "Top 100 Socially Conscious Corporations in the United States. Named by The Michigan Chronicle as one of 2007's ten people making a global difference, Mr. Taylor is the youngest African-American CEO of any publicly traded company in United States history. Taylor started his first business venture at age 12, when he began making video games. By age 17, he built a multi-million dollar technology company, GoFerretGo.com. In addition, through his action on green energy and philanthropy, Taylor is leading a new wave of CEO's focusing on corporate social responsibility. He appears regularly on FOX News, CNBC, and has been featured on network shows such as ABC's 20/20, Big Idea with Donnie Deutsch and Montel Williams show. He also has regular appearances in print and radio media including PBS, Black Enterprise, and the Miami Herald. He is also the author of "Creating Success from the Inside Out" a Wallstreet journal bestseller (published by Wiley).

* Adam Stewart (age 29), CEO of Sandals Resorts International, a multi-billion dollar empire of first-class luxurious all-inclusive resorts in the Caribbean (rated among the best world-wide), with approx. 10,000 employees. Adam Stewart is one of the youngest chief executives of a major company in the world. He started working in the hotel business at age 16 as a management trainee, learning all aspects of the business and gaining valuable experience in the important areas of Concierge, Entertainment, Marketing and Sales. He was promoted to the position of CEO at age 25. In addition, Mr. Stewart established "The Sandals Foundation", a non-profit organization that aims to tackle a myriad of issues affecting the Caribbean under three broad headings: community, education and environment. He is the holder of a BS degree in Hospitality Management from Florida International University.
The panel is moderated by:
Sal V. Perisano, Chairman and CEO of iParty. Mr. Perisano also served as Chairman of the Board and President of The Big Party Corporation from 1992 to 1998, and continued serving as a director until 2000. He co-founded Videosmith, which became a leading video retailer in the Boston area, which in 1989, was sold to a publicly traded company called Xtravision PLC, which owned 250 stores throughout the U.K. and Ireland. Mr. Perisano stayed on as a director and was later named Chief Executive Officer of the parent company, which was subsequently acquired by Blockbuster Video. Mr. Perisano holds a bachelor's degree from Boston College and a Master's Degree in Liberal Arts from Harvard University Extension School.